News
»
Go to news main
Calvin DeWolfe achieves Academic All‑Canadian status for cross country/track and field at Dalhousie
Posted by
Jane Doucet
on February 4, 2019 in
News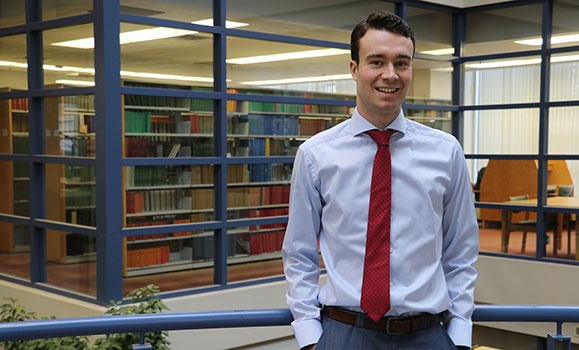 Congratulations to Schulich School of Law second-year student Calvin DeWolfe, who was recently recognized for achieving U SPORTS Academic All-Canadian status in cross country/track and field for the 2017–2018 school year. It makes him only the seventh law student to earn this prestigious status in that particular sport since 2000.
The 98 Dalhousie varsity student-athletes who were honoured at a Jan. 22 luncheon maintained a GPA of at least 3.50 over the academic year while competing in a varsity sport. "I'm really proud of myself, because it was tougher to compete while I was in law school than during my undergrad," says DeWolfe.
DeWolfe, who is from Bridgewater, was a member of the varsity cross-country team while studying philosophy at St. Francis Xavier University. "Running and cross country has been a pretty big part of my life since junior high school," DeWolfe told Dal News in a June 2018 story. "And then at StFX, it kind of took over my life."
Because he completed his degree in four years, DeWolfe only had one more year of varsity sport eligibility (the maximum is five) when he enrolled in law school in 2017. He joined the Tigers and won Cross Country MVP, helping the team win its first AUS men's cross-country title since 2010.
"Running is unique in that you can always quantify performance and measure it against what you've achieved in the past. And I think now my attitude toward school has been informed by my attitude toward running.
Although his early post-secondary plans had never included studying law, when DeWolfe's parents suggested that he'd make a great lawyer because he was always arguing, he started thinking seriously about it. When he was in high school, he began working toward the goal of applying to law school one day.
One reason DeWolfe chose the Schulich School of Law is that he learned that Atlantic Canadian law firms like hiring people who are from Atlantic Canada and who attend school here because they're more likely to want to stay in the region. Also, his mother had studied at Dal and enjoyed her experience here.
Since DeWolfe didn't know how heavy his first-year law school course load was going to be, he deferred one course, Criminal Law, to allow him to fit in training and competitions. He completed it during the spring 2018 semester.
Now that DeWolfe has completed almost two years of law school, he sees parallels between his sport and his studies. "Running is unique in that you can always quantify performance and measure it against what you've achieved in the past. And I think now my attitude toward school has been informed by my attitude toward running."
DeWolfe may no longer be competing in his sport, but he hasn't stopped running; he logs nine to 10 miles five to six times a week. "When I was competing, running was stressful," he says. "Now it's huge for stress relief, a bigger benefit than fitness. Stress affects everything you do, and a run takes it away."