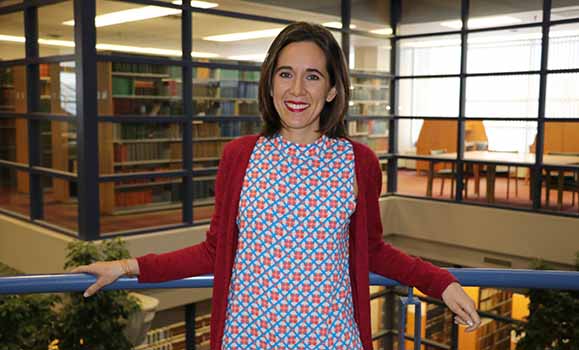 The Schulich School of Law welcomes Sarah Berger Richardson, who has joined us as a Schulich Fellow for the 2018–19 academic year and will be teaching a first-year Contracts course in the winter semester while Professor Richard Devlin is on sabbatical.
Berger Richardson has been working with Professor Jamie Baxter on research for several food law projects exploring farm practices legislation and land use planning on sustainable agriculture. "It's a really exciting time for food law in Canada in general," she says. "There's a growing community of scholars and practitioners who are learning from each other, where 10 years ago this didn't exist.
Why did you decide to pursue a career in law and academia?
When I was nine, I watched the movie Babe and became a vegetarian. As I got older, I realized that I wasn't just concerned about the treatment of animals in the meat industry, but how that industry harms the environment and its workers. Animal rights led to my interest in sustainable and ethical food systems. I did my undergrad in international development at McGill, where I focused on the international efforts to improve food security. I came to law to think about how legal institutions and instruments contribute to these efforts.
Tell us a bit about your academic and legal background.
After law school, I articled at the National Judicial Institute in Ottawa. I knew early on that I wanted to be a jurist, not a practicing lawyer. I was interested in research and teaching in an environment that values independence and creativity. My thesis is on how we can regulate meat systems in North America to better protect the well-being of the animals that we raise to eat and the individuals who work in this industry.
What appealed to you about doing an academic teaching Fellowship at Schulich Law?
I'm having a once-in-a-lifetime opportunity to work across the hall from Professor Baxter. I met him at the Future of Food Law & Policy in Canada Conference in 2016; his work is what brought me here. I also wanted to give students opportunities to get practical research experiences in food law, because there isn't a class in this area of law at Schulich Law or McGill. Also, the opportunity to teach a first-year law class isn't something that's widely available to PhD students. It's invaluable as I prepare to go on the job market.
What do you like about teaching?
I've taught intensive seminars on global food safety governance at McGill and at Shantou University in China, and I did a teaching mentorship at McGill in a Foundations of Law course. Teaching is a really unique space and privilege to help guide people in the learning process and encourage them to think and ask questions about things that they hadn't thought of before. I've had many professors who encouraged me to think critically but with compassion and empathy, balancing creativity and drive with a sense of responsibility. I hope to impart that to my students.
What have you been working on this fall?
One of the projects I'm working on with Professor Baxter involves a collaboration with Pro Bono Students Canada and the Food Law Society at McGill and East Coast Environmental Law at Dal. We're conducting case law research on tribunal decisions in Quebec and across the Atlantic provinces.
We're also creating a database of local land use regulations covering agriculture in Nova Scotia, including municipal planning strategies and land-use bylaws. In December, we'll be giving a presentation on the intersection of municipal law and food law to HRM Legal. In September we each presented at the third annual Canadian Food Law & Policy Conference in Laval, and I attended the Food Secure Canada assembly in early November.