News
»
Go to news main
Get to Know…Schulich Fellow Pierre‑André Thériault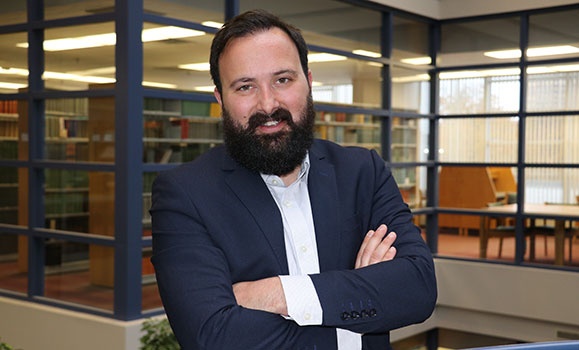 The Schulich School of Law welcomes Pierre-André Thériault, who has joined us as a Schulich Fellow for the 2018–19 academic year and is teaching a first-year Public Law class in both semesters. Originally from Moncton, Thériault completed his LLM degree at the University of Ottawa's Faculty of Law in 2014 and is currently a PhD candidate at York's Osgoode Hall Law School. Previously, he earned a BA and a JD at Université de Moncton.
Why did you decide to become a lawyer?
That's a difficult question to answer! I dabbled in a lot of things before turning to law, including playing music professionally and touring with a band for a couple of years after undergrad. I decided to give law school a try without really knowing if it would work for me. I still remember my first day of law school—on that first day it was clear to me that I was exactly where I wanted to be. What immediately appealed to me about law was that it is both a rich academic discipline and a powerful skill that can be used to effect positive change in society.
Tell us a bit about your academic and legal background.
After obtaining my JD at Université de Moncton, I clerked at the Federal Court and passed the Ontario Bar. It was at the Federal Court that I first became exposed to immigration and refugee law. I decided then to do graduate studies to study Canada's refugee procedure more closely. Since starting my PhD in 2014, I've also been maintaining a part-time pro bono legal practice in immigration and refugee law. In particular, I've been volunteering as a legal expert for the Refugee Sponsorship Support Program since 2015.
What appealed to you about doing an academic teaching Fellowship at the Schulich School of Law?
Dalhousie University and the Schulich School of Law are outstanding institutions. The Schulich Fellowship is a somewhat unique opportunity in Canadian law schools, and for me it was the ideal next step as I enter the last leg of my doctoral studies. I am especially thrilled to have the opportunity to interact with Schulich's faculty. I haven't met everyone yet, but I'm working on it. Being a Maritimer myself, I am quite happy to be back on the East Coast for the duration of the Fellowship.
What about the teaching part of the Fellowship?
I absolutely love teaching. I've taught clinical courses before at law schools, and administrative law at the college level. This is my first experience teaching a mandatory substantive 1L course, and I find it immensely rewarding. I am particularly happy to be teaching Public Law, a topic that I find fascinating and that is closely linked to my own research.
What's happening this fall?
Beyond teaching Public Law, I am working on a chapter for an edited volume manuscript on the private sponsorship of refugees. My chapter will focus on the role of administrative law in the Canadian refugee resettlement program. On the legal practice side of things, I am involved in a Charter challenge in the area of refugee law. We are in the very early stages of the project and it is very exciting. And of course, I'm always working on my PhD dissertation!