News
»
Go to news main
Schulich Law Professors Olabisi Akinkugbe and Colin Jackson present research at Purdy Crawford Emerging Business Law Scholars Workshop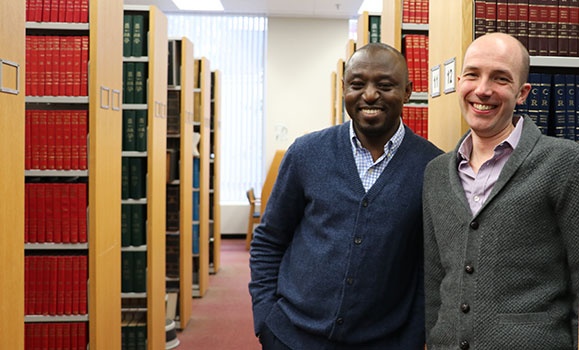 If business law was ever understood to be a specialized and esoteric subject, of interest to only a few students and academics with "Bay Street" orientations, that perception was displaced at the Purdy Crawford Emerging Business Law Scholars Workshop. The sessions, which were held at the Weldon Law Building on Oct. 19 and 20, featured about 20 up-and-coming business law scholars from across Canada, with 20 senior scholars as commentators.
The papers presented ranged from such topics as the influence of the media on our public narrative about environmental consequences of business transactions to the development of a uniquely Canadian corporate law to the ways we understand the moral underpinnings of employment law.
Professor Kim Brooks, the law school's Purdy Crawford Chair in Business Law, organized the workshop. Among the presenters were Schulich Law Professors Colin Jackson, Olabisi Akinkugbe, and Jamie Baxter.
"They each presented interesting work—one on the importance of access to justice in tax law, one on settlement of disputes in African trade agreements, and one on thinking about governance in the Indigenous leadership context," says Brooks. Jackson spoke about "Readability in Canadian Tax Law," Akinkugbe discussed "The Prospects of the Dispute Settlement Mechanism under the African Continental Free Trade Agreement: A Critical Overview," and Baxter explored "Property Law and Business Law: Thinking Together About Governance."
Senior scholar commentators included Schulich Law Professor Sara Seck and former faculty members Geoffrey Loomer (University of Victoria) and Mohamed Khimji (Queen's University). Former Schulich Fellow Tamar Meshel (University of Alberta) was an emerging scholar presenter.
We asked Jackson and Akinkugbe a few questions about their research.
What was the main point in your presentation and why do you think it's important?
Colin Jackson: I presented some work-in-progress that applies standard methods of measuring readability to a few different parts of the Canadian tax system. It's part of a project I started because it's important for people to be able to understand and engage with the legal systems that affect them. A readability analysis doesn't tell us the whole story around the accessibility of the law, but it can give us a rough idea about a piece of this topic.
Olabisi Akinkugbe: I presented an aspect of my new research that is mainly a critical preliminary assessment of the new continental free trade agreement in Africa. I focused on the dispute settlement mechanism of the agreement. My main argument is that, while African states who sign the agreement have a significant advantage from co-operating at the continental level, they must focus on how the new trade agreement will operate in relation to many other regional trade agreements and regional courts on the continent.
What did you take away from the workshop that surprised you or that you thought was particularly engaging?
CJ: There was so much! The best take-away for me was how much interesting research is going on in Canada, in a variety of areas, with a variety of approaches and methodologies.
OA: I appreciated the "safe" environment where people felt free to be vulnerable with their ideas, knowing they will be better off because of the feedback that was built into the organization of the conference. I also appreciated that I gained more academic friends who don't necessarily work in my research area.
If you could tell our law students one thing about business law scholarship, what would it be?
CJ: There's room for you (yes, you!) to make a contribution here. Our students are sharp and curious and have great ideas, and I love to see them develop those ideas and put them out there in the form of scholarship.
OA: Business law is more fluid than it has ever been. Advancements in technology mean that traditional ideas about the field are being challenged in new and exciting ways. Yet business law is a broad field of scholarship with different subject areas. While it is not possible for a student to take all such courses, attending future seminars at the law school, despite your interest, may be one way to keep abreast of these developments. It was nice to see some of our students attending the workshop.
What's most valuable about presenting your work in this kind of forum?
CJ: I got some great engagement with my research and helpful feedback. But the best part of an event like this is getting to interact with such an excellent group of colleagues from across the country.
OA: I benefited from the opportunity to receive useful feedback from another scholar who read the draft of my work that will help me think about improving the paper. The opportunity to receive good questions and comments from scholars who don't undertake my kind of research but are interested in it was also refreshing.