News
»
Go to news main
KUDOS! Professor Jennifer Llewellyn wins SSHRC 2018 Impact Award for restorative justice work
Posted by
Jane Doucet
on October 3, 2018 in
News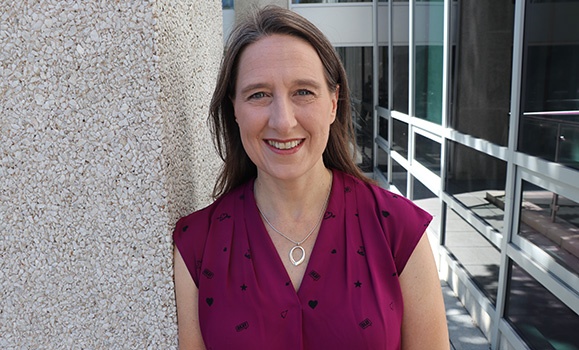 The Schulich School of Law is pleased to announce that Professor Jennifer Llewellyn has won a $50,000 Social Sciences and Humanities Research Council (SSHRC) 2018 Impact Award in the Connection category. The winners in each category—Talent, Insight, Connection, and Partnership, as well as the Gold Medal recipient—will receive their awards from Governor General Julie Payette at Rideau Hall in Ottawa on the evening of Oct. 3.
The annual SSHRC Impact Awards recognize the highest achievements from outstanding researchers and students in social sciences and humanities research, research training, knowledge mobilization, and scholarship funded partially or completely by SSHRC.
The Connection category celebrates research that facilitates the flow and exchange of knowledge within or beyond the social sciences and humanities community. It is given to an individual whose project has engaged the campus or wider community and has generated intellectual, cultural, social, or economic impacts.
"I am honoured to receive this Impact Award. It is particularly meaningful to be recognized in the Connection category, because connection is central to the subject matter and approach of my research and work," says Llewellyn. "I have been fortunate to work with academic colleagues and dedicated partners in government and communities provincially, nationally, and internationally."
Llewellyn is the Yogis and Keddy Chair in Human Rights Law at the Schulich School of Law and an international expert in restorative justice. She has consistently demonstrated a deep commitment to the values of restorative justice through both her academic work and her personal life.
"Professor Llewellyn's restorative justice research and work are innovative and ground-breaking, and are made richer by her commitment to and her success in building transformative connections with government, community and academic partners in Canada and around the world", says Schulich School of Law Dean Camille Cameron. "Her expertise and leadership are having a significant impact on the development of meaningful restorative justice networks and initiatives."
Her teaching and research is focused in the areas of restorative justice, truth commissions, international and domestic human rights law, and Canadian constitutional law. She is the author of multiple publications and reports on the theory and practice of a restorative approach.
"Professor Llewellyn is arguably the most pivotal leader in restorative justice in Canada and internationally," says Alice Aiken, Dalhousie's vice-president of Research and Innovation. "She has an innate willingness, capacity, and commitment to address some of the most challenging social issues and to facilitate the empowerment of those most affected. She has contributed to meaningful criminal justice reform in Canada and around the world."
International impact
In 2006, Llewellyn established the Nova Scotia Restorative Justice Community University Research Alliance (NSRJ-CURA). Through a focus on the institutionalization of restorative justice based on Nova Scotia's early leadership in the field, she built an alliance of 18 government and community partners representing all the central stakeholders in the restorative justice program in Nova Scotia together with leading researchers from five Canadian universities.
The research alliance expanded as new connections were made across sectors (education, community services, human rights) and internationally through several learning visits by delegations from the United States, Europe, the Middle East, Australia, and New Zealand.
Llewellyn continues to advance this research and expand the collaborations essential to its dissemination and impact through her current SSHRC-funded projects on Restorative Approach to Human Rights and as co-applicant for a Partnership Development Grant on the use of a restorative approach to education for reconciliation using virtual reality to address systemic racism in relation to the story of Nova Scotia's Home for Colored Children.
Llewellyn has developed and facilitated restorative justice projects around the world. She has worked for the Truth and Reconciliation Commission in South Africa in the wake of apartheid and was a senior advisor for the United Nations Development Programme supporting the development of a national restorative justice policy for Jamaica.
Her work on international peacebuilding led to an invitation to present to the United Nations Peacebuilding Commission and the World Summit of Nobel Laureates in Warsaw, and to serve as Canada's representative at the United Nations expert meeting on the use of restorative justice in criminal matters.
She currently directs the International Learning Community, a global network of leading researchers, policymakers, and practitioners to support and amplify the application and impact of research for the benefit of communities in Canada and around the world.
Here at home
Llewellyn advises Nova Scotia's Department of Justice in the development of a restorative justice program, worked with the Truth and Reconciliation Commission that addressed abuses in Canada's residential schools, and facilitated the design of the first restorative public-inquiry process for the Nova Scotia Home for Colored Children (she is serving as a commissioner on the inquiry).
Llewellyn also helped support restorative work at Dalhousie, including an innovative pilot that began in 2011, when the university collaborated with the Halifax Regional Municipality and the Nova Scotia Department of Justice to address students' behaviour on and off campus.
In addition, she has built significant connections with lasting impacts through training and mentoring students and emerging scholars. One of her projects funded 39 undergraduate research assistants and six graduate fellows and hosted five annual student conferences in conjunction with the restorative justice course that she designed and teaches at the Schulich School of Law.
"Universities provide such important space to bring together diverse partners across disciplines and sectors to learn collaboratively and use knowledge to make a difference in the world," says Llewellyn. "I have been lucky that this approach has been valued by the institution where I work. The Schulich School of Law has a longstanding commitment to unselfish public service, and Dalhousie is passionate about ensuring the research and knowledge make a difference beyond its campus."