News
»
Go to news main
KUDOS! To Professor Bruce Archibald on his retirement
Posted by
Andrew Church
on June 14, 2018 in
News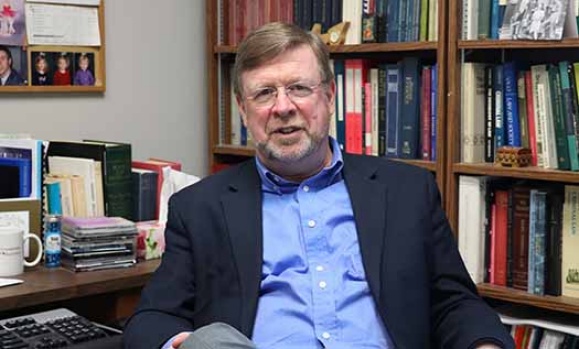 Professor Bruce Archibald joined the faculty in 1976 after earning an MA and LLB at Dalhousie, followed by an LLM in comparative law at Columbia University and postgraduate study at Panthéon-Sorbonne in Paris. Over the years he has taught courses in criminal law, legal process, family law, Quebec law, criminal procedure, and labour and employment law. As he prepares to retire, he reflects on what has changed, what he has learned, and what comes next.
How did your teaching style evolve?
It has stayed pretty consistent. I use a Socratic method: I assign materials, cases, statutory material, and commentary for students to read, which will then be discussed in class. Largely through questions, usually through some introduction by me—I certainly don't lecture. I have discussions with students about materials I assume they will have read in advance.
That was the normal way when I started teaching. I tried to imitate my best professors, either at the law school here or in New York. I'd structure the issues in the classes through overheads, for example, and ask a lot of questions. My students would get angry with me because I put almost as many questions as statements on my overheads. Sometimes I would ask a particular student a question, but I never thought of it as a nasty kind of thing—it wasn't like The Paper Chase!
Have the students changed over the years?
Oh, they work harder now. Students today are driven individuals who take it far more seriously than I and most of my classmates did when I was in law school. The pressure for getting jobs is really quite something. They work hard and perform; it's wonderful. We teach the cream of the crop.
What have the students taught you?
They taught me never to assume that I'm right. You always learn something when you're teaching intelligent people. You have to know the material inside out, and yet inevitably when you're discussing things, there is a student who has a better idea than yours, so it's always interesting. You learn about people, yourself, and the subject matter. Teaching is invigorating—it's the best part of the job.
What do you think is our law school's greatest strength?
It's a combination of the faculty and the students. We are hiring people with doctoral degrees who are fine scholars, and they all work hard. They're good teachers, strong researchers, and nice people to work with. The other strength is that the law school draws students from all across the country. The Admissions Committee ensures that we have a strong local contingent, but every year we have students from virtually every province and territory. Some provinces have large concentrations of law school alumni who help us recruit people from across the country, so the students who come here become a microcosm of the national legal profession.
How long have you been organizing the Innis Christie Lectures, and do you feel it's part of your legacy?
I would say it is. I got assigned to do it because I started teaching labour and employment law after years as a labour arbitrator and Labour Board vice-chair. I've organized the lecture and associate symposium or short course nine times. We've had leading labour and employment law scholars from around the world as the Innis Christie Visiting Professor in labour and employment law. This year on Sept. 27 and 28, we'll have Paul Davies, who was formerly at the London School of Economics and is now a post-retirement professor emeritus at Oxford. His lecture is entitled "Company Law and Social Justice."
Career-wise, what are you most proud of?
First, that I've been able to teach a huge cohort of students over 42 years. That's been great. In terms of research, the work I did with the Law Reform Commission of Canada in the early '80s on the Criminal Law Reform Project, and for the Marshall Inquiry, which led to the creation of the Nova Scotia Public Prosecution Service. Then there was the development of the Nova Scotia restorative justice system; we were the first province to bring in a comprehensive restorative justice program. In the early '80s, I was involved with then Dean Bill Charles and alumnus Brian Flemming in establishing the law school's alumni association. As well, I was the graduate program co-ordinator, which is now called the Associate Dean of Graduate Studies, for a long time.
What will you miss the most?
The law school is a very flexible and stimulating place to work, which enabled me to teach, do research, engage in policy work for governments, and do adjudicative work. I hope I have made a useful contribution to society. You get to choose your own agenda, and you're not a slave to billable hours. It has been a privilege to work here.
What's next?
Well, I don't plan to ride off into the sunset entirely! I'll teach another term of labour law and stop at the end of next term. I hope to be able to see my colleagues from time to time, and if I can be helpful assisting with supervising graduate students or giving the odd lecture, that would be fun. I'm looking forward to continuing arbitration work and doing a little more sailing and little more playing music, and generally doing things at a far more relaxed pace.