News
»
Go to news main
KUDOS! Geordie Lounsbury receives 2018 Grad Class Ring
Posted by
Andrew Church
on June 7, 2018 in
News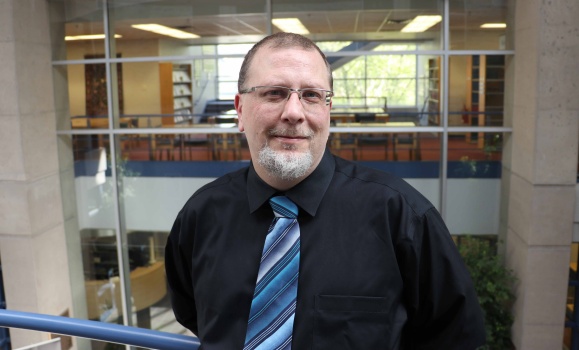 On May 26 at Pier 21 in Halifax, the Schulich School of Law graduating class awarded Geordie Lounsbury the 2018 Grad Class Ring (pictured below), which honours someone who has made a significant contribution to the student community in the past three years. Lounsbury, the Information Media Centre supervisor who has worked at the law school since 2001, was presented with the ring at the annual Grad Gala.
"I'm incredibly honoured, as this is the highest award a staff member can receive," says Lounsbury. "I look at my job as a service to the students — the main reason that any of the staff are here is to provide service to the students."
Every year the graduating class selects the recipient of the ring in an anonymous vote held by the student-run Social Committee (SOCO). Students submit nominations, then vote. In past years, the ring has been given to professors, judges, and Weldon staff.
"Nearly all of us have had a personal experience with Geordie where he has completely saved our butts," says Micaela Sheppard, the outgoing VP and a graduating member of SOCO. "Whether getting us through an Exam4 [software] crisis, helping student societies with technology, or just offering a friendly ear, he's there for us. Even professors can thank Geordie for getting them through seemingly impossible tech times. He is selfless and caring, and everyone loves him!"
Lounsbury's duties extend well beyond tech support. "Sometimes the biggest challenge is being a calming force," he says. "To be the person who gets someone to take a breath and say, how can we fix this, how do we solve this? You have to present the facts and know everything that's going on in the building, and in the university to some extent. If you can't help somebody yourself, you need to know who can."
Lounsbury is committed to providing a high standard of service to the entire Weldon community. "My job is to do what I can to help students graduate. Everything else is secondary to that goal. Without the students, I wouldn't have a job."