News
»
Go to news main
In Memoriam: Retired professor and alumnus Peter Darby (LLB '58)
Posted by
Jane Doucet
on June 7, 2018 in
News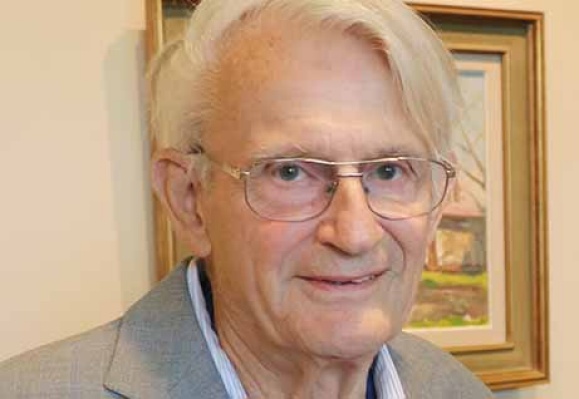 The Schulich School of law extends its sincere sympathy and condolences to the family, friends, and former colleagues of retired law school professor and alumnus Peter Darby (LLB '58), who died on June 4 in Halifax at the age of 83.
The son of Judge Walter E. Darby of Summerside, P.E.I., Darby was called to the Bar in Alberta in 1959, after earning a BA from Mount Allison University in 1955, then his law degree from Dalhousie Law School. He worked at Imperial Oil in Calgary until 1960, after which he moved to Saint John. He practiced law in both Alberta and New Brunswick before moving to Nova Scotia in 1969 to begin his career at Dalhousie, where he taught law for nearly 30 years. During that time, he served on various Faculty of Law and Senate committees.
Darby became associate professor in 1971 and was promoted to full professor in 1976. He taught wills and trusts, estate planning, property and labour law, and real estate transactions.
Respected labour arbitrator and adjudicator
In 1970–71 Darby did a teaching fellowship at the University of Illinois. He also held a visiting professorship at Vreij University in Holland, where he taught labour law. He received numerous awards as a labour arbitrator and adjudicator, in Atlantic Canada and nationally, on labour relations, employment, and occupational health and safety matters. Among his many appointments, Darby was vice-chair and chairman of the Nova Scotia Labour Relations Board and a member of the task force on Incomes and Adjustment in the Atlantic Fishery.
In November of 1994, The Weldon Times reported that Darby was recuperating at the Victoria General Hospital following a minor heart attack that he suffered while teaching his Equity and Trusts class. The article stated that law student Andrew Stephens responded to the news of Darby's recovery with a little humour: "In an allusion to the common Weldonian God reference that tends to follow Darby around from year to year, 'It's just evidence that he is immortal.' "
In 1996, Darby was a recipient of Dalhousie's Rosemary Gill Award, which was established the previous year to honour Dr. Rosemary Gill, the director of Student Health Services, who exemplified a high level of commitment of service to students. Darby retired from teaching at the law school in 1996.
Darby is survived by his wife of 58 years, Constance; daughter, Leslie Wagar (Terry); son, Andrew (Lisa Baker); sister, Isabel Russell (Robert); and grandchildren, Emily Wagar, Katie Wagar and Benjamin Darby. A celebration of life will be held at a later date. In lieu of flowers, memorial donations may be made to the Canadian Cancer Society.
Remembering a colleague and friend
Dean Emeritus Bill Charles: "The Class of 1974 called Peter Darby one of their 'beloved' professors. They were not speaking only for themselves. Any student who was lucky enough to have had Peter as a teacher or mentor would use the same word to describe him. Besides being an excellent teacher who knew his 'stuff,' he was above all caring and compassionate where students were involved. 
"Peter and I were life-long special friends. We studied law together, articled at the same time at different law firms in Calgary, were colleagues at the law school for almost 30 years, went to Neptune Theatre together with our wives, played hockey together, and argued politics together. We were part of each other's lives for over 60 years. Lucky people have a special friend like 'The Darb.' I will miss him terribly."
Professor Bruce Archibald: "Peter Darby was greatly loved by his students for his intelligent, frank, and sometimes irasicble views on the law. He was also very concerned about the well-being of his students, which was expressed in many personal ways, but also in the chairing of the Student Finance Committee. On my arrival as a faculty member, Peter was always thoughtful and supportive, and very practical in his suggestions as a mentor to a new faculty member.
"When I was appointed as a vice-chair at the Nova Scotia Labour Relations Board, I once again was under Peter's tutelage, since he was chair. Peter's careful and exacting decisions were greatly appreciated by the Labour Relations bar, to say nothing of the other vice-chairs and staff on the board who learned from his wisdom. It was a privilege to know Peter and Connie in various contexts, and I will miss him greatly."
Professor Archie Kaiser: "When he taught me in the 1970s, Peter was a vast storehouse of knowledge in property law who cared deeply about his students and who was delightfully irreverent. As a faculty colleague, he was unselfishly devoted to Dalhousie Law School, extremely diligent in his institutional responsibilities, and always mindful of the interests of our students.
As an adjudicator and arbitrator, Peter was universally respected for his seriousness of purpose and his sense of fairness. As a community member, he took a deep interest in the administration of justice and supported law reform and improvements in access to justice for marginalized people."