News
»
Go to news main
Schulich Law's first Mini Law School on the Road public lecture explored how to legally protect Indigenous culture
Posted by
Jane Doucet
on March 28, 2018 in
News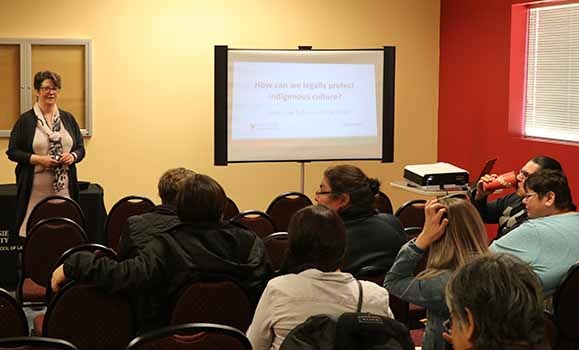 On March 27 at 7 p.m., community members in Millbrook, N.S., gathered in Room 102 at Legends Gaming Centre to hear Schulich School of Law Professor Lucie Guibault speak about the legal protection of Indigenous culture. The event was the first in an inaugural series of Mini Law School on the Road public lectures that are being held in communities across Nova Scotia, and that the law school has organized as part of Dalhousie's 200th-anniversary celebrations.
Among those present was Cheryl Maloney, a Mi'kmaq activist and professor of political science at Cape Breton University. Students of Maloney's special-interest Mi'kmaq Studies course were also in attendance. "It's great for the students to come out to an event like this and learn more about these issues," she said.
My task is to understand how treaty law works. Help
me to understand your way of understanding. 
— Professor Lucie Guibault
Guibault began by speaking about how the link between Indigenous culture and community needs to be protected and explained that Indigenous communities deserve to have the power to decide what happens to all elements of their culture and traditions. The subject matter touched on copyright law, trademark law, industrial design, and the challenges in developing a system of protection for Indigenous culture to work in tandem with the legal framework that exists today.
Most notable was the almost immediate interaction between Guibault and the audience. Meaningful dialogue took place consistently throughout the hour-and-a half presentation, with community members giving their input on how traditional knowledge, genetic resources, and traditional medicines are unique to each Indigenous community in Canada.
Guibault discussed the role of the World Intellectual Property Organization and its mandate for current protection of Indigenous culture and traditions. She also acknowledged the complexities of copyright law, both internationally and within the protection of Indigenous culture, and offered to build a relationship with the Millbrook community to create a deeper knowledge of the subject.
The congenial rapport between the two parties suggested that this was only the beginning of a new and positive relationship. "My task is to understand how treaty law works," said Guibault. "Help me to understand your way of understanding."