News
»
Go to news main
The Right Hon. Beverley McLachlin, P.C., captivated the crowd in Schulich Law's Room 105
Posted by
Jane Doucet
on March 21, 2018 in
News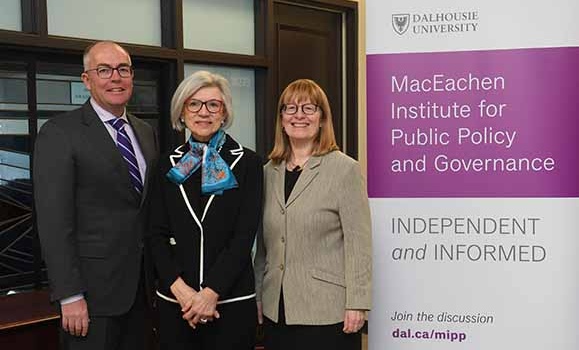 On March 20, The Right Honourable Beverley McLachlin spoke to a standing-room-only crowd in Weldon's Room 105 about her experience as a Chief Justice of the Supreme Court of Canada – and the first female and longest-serving Chief Justice of Canada – and her thoughts on the future issues of the courts. The talk was co-hosted by the Schulich School of Law, the MacEachen Institute for Public Policy and Governance, and Law Hour.
Here are some notable quotes from Chief Justice McLachlin's talk:
"To be a Chief Justice, you have to have a good grounding in Canadian law and good analytic and writing skills in the law. You have to be able to get along with eight other people – it's like being married to eight people! You have to try to be a specialist in many different areas of the law. You need a lot of stamina because there's a great deal of work to do."
"When I was appointed, I was quite euphoric for about three days. Then a friend told me not to get too excited because they hand you the reins of justice but it takes about three days to realize they're not connected to anything."
"When I was appointed, Bertha Wilson leaned over and whispered to me, 'Three down, six to go.' "
"I can't think of any impediments because I was a woman. Whatever I did wrong was just because I did it wrong."
"There are four women on the Supreme Court of Canada now. When it got to four, the whole subconscious gender thing lifted, and I felt very relieved."
"As for future issues for the courts, I don't have a crystal ball – I wish I did. Here are five areas where I feel there's more work to be done: Indigenous issues, environmental issues, technology issues, international issues, and diversity issues."