News
»
Go to news main
Get to Know...Dana‑Lyn Mackenzie, Director, Student Services and Engagement
Posted by
Jane Doucet
on October 16, 2017 in
News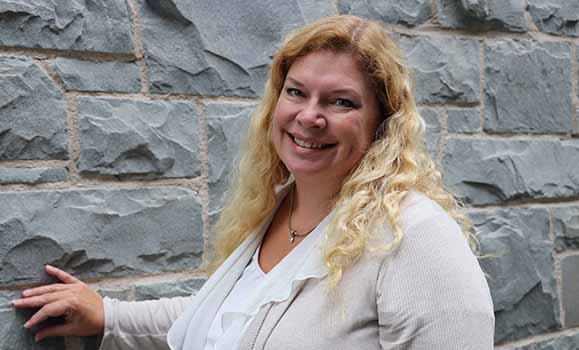 The Schulich School of Law welcomes Dana-Lyn Mackenzie, who has joined our law school as Director of Student Services and Engagement. Of Icelandic, Central Coast Salish (Hwlitsum First Nation), and English heritage, she earned a BA in art history at UBC. After starting her family and realizing the importance of role modelling feminism and leadership as a woman of First Nations and settler descent, Mackenzie earned her JD from UBC in 2011 as an alumna of the Indigenous Legal Studies Program and was called to the B.C. Bar in 2012.
Before arriving at Schulich Law, Mackenzie led the delivery of Indigenous programming to 60 Indigenous law students at the Peter A. Allard School of Law at UBC, where she shared responsibility for academic, admissions, and career services support. She also practiced criminal, wills and estates, and Aboriginal law part-time through Allard Law's Indigenous Community Legal Clinic. She's excited to begin a new chapter of her career at the Schulich School of Law.
Tell us about your legal practice.
I articled with the Department of Justice at the British Columbia Regional Office and, after rotating through its seven sections, I ended up practicing in the criminal law and international assistance section, which I really enjoyed.
Why did you decide to leave full-time practice?
I used to be an ESL teacher, and I've always enjoyed teaching. I love working with people, and in the past I was involved in tourism and teaching. I wanted to bring my lawyer and people skills to law school. And while I was at UBC, I kept one toe in practice.
What drew you to the Schulich School of Law?
Many things, but mostly its reputation for collegiality and the Weldon Tradition for unselfish public service, as well as its dedication to diversity. I'm delighted to be working with students, faculty, and staff to develop, lead, and support wellness initiatives and contribute to all students' development and success.
Also, I had always wanted to live in Halifax; it has all of the attributes of a big city but with a small-city feeling, so it's a great place to raise a family. My husband is from Scotland, so it's a midway point to visit both of our families. I came to Halifax three years ago to attend a conference, and I made a point to meet Professor Michelle Williams in person then, after connecting with her through a national group I used to manage of Indigenous law student advisors. I also met Professors Naiomi Metallic and Constance MacIntosh through coaching the Kawaskimhon Moot, which gave me a great sense of the faculty.
How does your Indigenous heritage inform your work?
I believe that my background as a Hwlitsum First Nation person prepares me to contribute uniquely to this law school. In my last role, I championed Indigenous students and issues. Also, as a Central Coastal Salish person, I've learned to build relationships and work together to find a mutual result – our way is not a dictatorial way of working. I'm excited to bring all of these skills to Schulich Law.
How do you think your new wellness program, Dal Law Dogs, will help students?
Dogs are great social levelers, and studies show that petting an animal lowers stress. Faculty and staff will have dogs available at the law school for those who want to drop in to visit them on certain days throughout the fall. This program is a fabulous way to informally build community by bringing together people who might not otherwise connect. Bringing a focus to ongoing wellness initiatives is a big part of my role, which I am excited about.  
What other kinds of services are you offering to students?
I'm a resource for students who are stressed or in distress. My office is in Room 216, and my door is always open. I'm here to listen in a respectful, non-judgmental way. I went to law school as a mature student and I graduated in 2011, which isn't so long ago. I understand firsthand the struggles that law students face. I also see my role as one of mentoring. I hope to help students build their professional identity and instill the values we as a law school want them to have.