News
»
Go to news main
Get to Know...Visiting Assistant Professor Olabisi D. Akinkugbe
Posted by
Jane Doucet
on September 28, 2017 in
News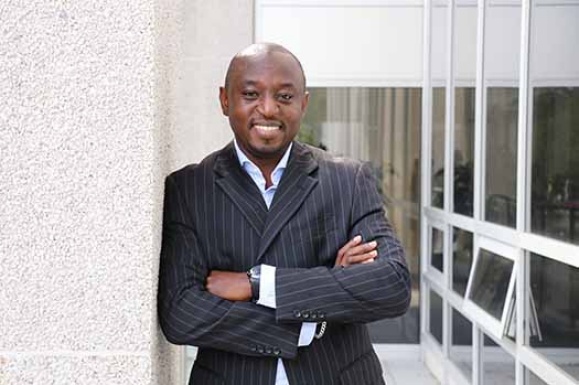 The Schulich School of Law welcomes Olabisi Akinkugbe, who has joined our law school as a Visiting Assistant Professor for the 2017–18 academic year. Originally from Lagos, Nigeria, Akinkugbe earned his law degree from the University of Lagos in 2003, then completed a year-long professional legal training at the Nigerian law school, where he received a Licentiate Degree in Law in 2004.   
After law school, Akinkugbe joined a firm in Lagos and spent from 2004 to 2006 practicing corporate and commercial law, and he was also an associate of the firm's litigation and arbitration practice group. "I enjoyed practice, especially the trials, which were the satisfying completion of a lot of hard work leading up to that point," he says.
Akinkugbe comes to us from UNB's law school, where he taught first-year contract law and two upper-year seminars, international trade law and law and economic development, from January of 2015 to June of 2017. At Schulich Law he has a full teaching load: first-year contract law and judicial decision-making and second-year civil procedure.
Why did you decide to become a lawyer?
The main reason was to get away from mathematics, which I didn't enjoy! My parents were teachers, so teaching was in the back of my mind. I enjoy reasoning things out and working on issues that impact daily living, so I thought law was a good fit. Once I got into law school, my mind really opened to various ideas, particularly the power that law wields and how the value of the practice of law would be a useful step to eventually teaching it.
Tell us a bit about your academic and legal background.
In December of 2006, I left the law firm to join a road infrastructure public private partnership [PPP] company in Lagos as assistant legal counsel. During this period, I completed applications for my master's. In August of 2007, I came to Canada to do my LLM at the University of Toronto. I returned to Nigeria in 2008 and to the PPP company as legal counsel. I worked there until 2011, then came back to Canada to do my PhD at the University of Ottawa. I submitted my doctoral thesis on African regional trade agreements in August, and I'll be defending it in late November or early December.
Why were you interested in teaching at the Schulich School of Law?
Coming here was an easy decision because this law school has such a good national and international reputation. Its breadth of programs, institutes, significant international scholarship, and excellent research profile make it the leading law school in the Maritimes. When the opportunity to teach here presented itself, I didn't hesitate to apply. It's also extremely collegial; I haven't been here very long, but I quickly felt like I could knock on colleagues' doors and have lunch with them. On a personal note, my family and I like Halifax. It is truly multicultural and offers a significant blend of all we would want in a city we call home, including a unique balance for family living and professional life. 
What do you enjoy about teaching?
I'm passionate about teaching! I love being in the classroom, where I have an opportunity to engage with students and contribute to shaping the next generation of lawyers, but I'm also aware that it's a huge responsibility. I try to model what I hope my students can be, especially first-year students. Instead of trying to compete with each other, I tell them, "You want to outdo your yesterday – to surpass your yesterday to stretch and improve yourself. If you end up being in the middle of the class but you have done your best, you can be proud." But I also impress on them to care about each other, despite the rigor of law school.
What are your current areas of research?
My research interests derive from my legal practice and academic experiences. My current research covers business law, transnational law, relationship between law and economic development, African regional economic integration, and regional and transnational dispute resolution. I am excited about legal issues and the resolution of disputes at the intersection of business law and transnational law, as well as the role of context in the implementation of regional trade agreements, in particular, and contracts generally.
The title of my doctoral thesis is "Revisiting the Economic Community of West African States: A Socio-Legal Analysis." In it, I argued that the existing narratives on regional trade agreements in West Africa do not adequately account for the complex social, historical, and political factors that shape the implementation of the Economic Community of West African States trade agreements.
What are your future research plans?
My immediate research plans are twofold. First is the publication and dissemination of chapters from my thesis in peer-reviewed journals and other platforms that make them available for various institutions that may find them useful. Second, I have recently secured a Social Sciences and Humanities Research Council Insight Development Grant as a co-applicant. The grant will support the next phase of my research, which is titled "Regional and National Courts and Africa's Economic Integration: A Study of the East African Community."
What excites you about this chapter of your legal career?
I believe that the Schulich School of Law is a place where I will have the platform to do the kind of research I want to do, and there is great potential for collaborative research. And of course I'm very pleased about the opportunity to carry on teaching, which I find the most fulfilling.