News
»
Go to news main
Young justice professionals panel considers limits of sexual assault law in a "post‑Ghomeshi world"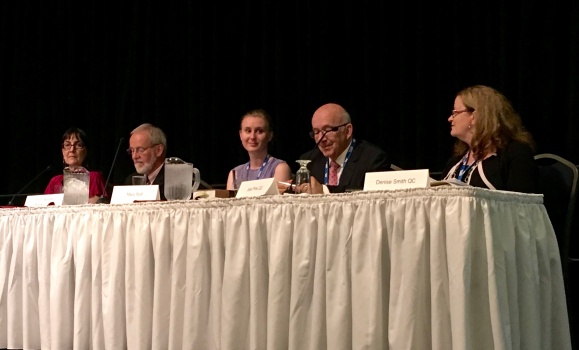 He said; she said. Consent was involved; consent was not involved. A crime was committed; a crime was not committed. These are the kinds of "competing realities" at play in a sexual assault trial – and still a point of contention for members of the Canadian public following the not guilty verdict of former CBC broadcaster Jian Ghomeshi this year.
On July 26, as part of the 29th annual International Society for the Reform of Criminal Law (ISRCL) conference, three lawyers (including Schulich School of Law Professor Wayne MacKay), third-year student Mary Rolf, and a sociologist discussed sexual assault law and reform in what they referred to as a "post-Ghomeshi world." 
Prof. MacKay described the competing perspectives at work in a sexual assault trial: there is the perspective of the complainant and the accused, of course, but there is also the perspective of the court and the general public. "The Ghomeshi trial pointed out the challenges from the perspectives of the victims," said MacKay, particularly in terms of re-victimization and the high degree of focus placed on reputation and past behaviour.
"The statistics certainly send a chilling message to any complainant who has been victimized by sexual assault and wants to contact the justice system," said MacKay.
Mary Rolf, a third-year student and Internet law and policy research assistant who focuses on cyberbullying, sexualized online harassment and sexual assault, analyzed the statements made by Canadians on their Twitter and Facebook pages in response to hashtags like #Ghomeshi and #IBelieveThem.
"I characterize social media in a case like this as an always-on focus group," said Rolf. Social media allowed for an unprecedented real-time reaction to a high profile case and left a record that could be analyzed. It was an important opportunity for policy makers and the legal profession to hear from Canadians directly on the issue of sexual assault.
"Law has an important role, but is not the only response," said MacKay. "The law states what our values and principles are as a society. Alternatives to the criminal process help propel cultural change." — Professor Wayne MacKay

As Canadians watched the Ghomeshi proceedings unfold on various social media channels, Rolf says many started to recognize the limits of criminal law, signaling an interest in alternative or complementary processes to address sexual assault complaints.
Dr. Diane Crocker, a sociology professor at Saint Mary's University, agrees. "We need to look outside the legal box," she said in front of nearly 70 attendees. "Currently, if a victim of sexual assault wants justice, there's nowhere for them to go except the criminal court. There are services, there is counseling, there are other options available in the community, but to seek out justice or reparation or restitution or some sort of redress for the harm, there's nowhere to go but criminal law."
Denise Smith, QC, the deputy director of the Nova Scotia Public Prosecution Service, recognizes the fact that myth and stereotype exist in cases of sexual assault in the modern courtroom.
"Sexual assault is a unique crime in the sense that the act itself is either a crime or not a crime depending on the presence or absence of consent," said Smith. "We don't say that the bank teller either consented or didn't consent to the robbery. The robbery is the crime. This is a unique aspect of the crime of sexual assault. And the cases tend to be very heavily dependent on the credibility of witnesses. That's a real, legitimate system challenge."
Prof. MacKay proposes four ways the system might be reformed:
Publicly funding legal counsel for complainants who want to pursue civil action in cases of sexual assault.

Introducing restorative justice practices (there is currently a moratorium on the use of restorative justice for cases of sexual assault and/or intimate partner violence.)
Creating specialized sexual assault courts.
Providing counsel for complainants. In the current criminal system, complainants are witnesses, not parties. In many cases, they do not have a lawyer helping them navigate what is generally an overwhelming and confusing process.  
"Law has an important role, but is not the only response," said MacKay. "The law states what our values and principles are as a society. Alternatives to the criminal process help propel cultural change."
"It's interesting to contrast the 1892 definitions of penalties for rape – life imprisonment and death – with current penalties for rape, which are often tame," noted MacKay. "Today's penalties send a different message about how serious as a society we think this offense is."