News
»
Go to news main
Educating for health care's collaborative future
Posted by
Matt Reeder
on January 12, 2018 in
News
Diane MacKenzie receives Dal's award for innovation in teaching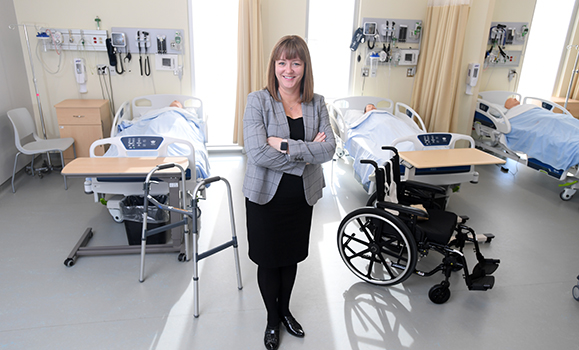 It's a familiar scene on television: lights flash and sirens blare as paramedics pounce from an ambulance, grab an injured patient out of the back and rush into the emergency room.
And on screen, as in real life, that patient's fate often boils down to the abilities of the people involved to make split-second decisions together amid the frenzied swirl.
But teamwork in health care goes well beyond such acute emergency situations, something Diane MacKenzie, an associate professor in the School of Occupational Therapy (OT), seeks to impart to all of her students.  
"In every pocket of health care, there is a team involved and the players may be very different," she says.
Dr. MacKenzie has played a pivotal role in shaping interprofessional health education at Dal over the past decade or so, serving as a champion for expanding simulation-based activities that help prepare students for the broader shift in Canadian health care to a more collaborative model.
Hands-on team learning


Look no further than the interprofessional stroke care simulation Dr. MacKenzie helped develop for students as part of a neuroscience class she teaches and for which she received Dal's Innovation in Teaching Award this year.  
Embedding the stroke simulation into six different curriculums (OT, physiotherapy, nursing, pharmacy, speech language pathology and medicine) has been a challenging process at times, says Dr. MacKenzie, but a worthwhile one.  
As the leading cause of physical disability in North America and, along with heart complications, the number one killer, stroke makes a natural fit for a simulation aimed at sharpening students' interprofessional skills. There is also a long continuum of care for individuals after a stroke that can include multiple health professional delivering emergency, rehabilitation, or community based care.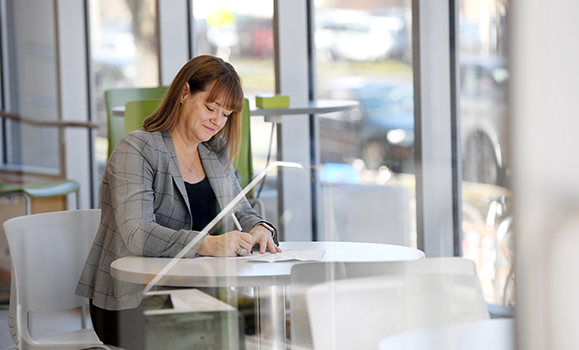 "No matter what practice area you go into, you will almost definitely encounter someone with a stroke," she says.
The simulation itself begins with a video that sets up the patient scenario before then transitioning into a group setting where students from different fields must work together in teams to develop a realistic care plan for the patient.
While the character at the heart of the simulation — "Ms. Willa" — stays the same each time, her case details are tweaked for the simulation depending on the specialties of the students taking part. One year, Ms. Willa may be bowled over on a couch mid-stroke, the next showing signs of confusion at the pharmacy.  
With no direct facilitation from Dr. MacKenzie or others, it's entirely up to the students to figure out an approach that makes sense for their particular team and to work through any potential conflicts that might arise (as they often do).  
"It's designed to draw overlapping roles from every learner and to create some conflict in care management," she says.
Improving interprofessional education

As strange as that might sound, the hope is that deliberately designing difficult situations for students can ultimately improve interprofessional collaboration and patient outcomes later on once they move into practice.  
Braydon Connell, a third-year Dal med student who participated in the stroke simulation years ago as OT student and then again as a med student, says interprofessional training has been key to his success as he transitioned into a clinical setting this year.
Understanding different people's roles on a team, each person's relationship to a client, and their scopes of practice — that is, the procedures and actions they are licensed to carry out — are key to ensuring the best outcomes for patients, he says.
"If you don't have the basis for what a person does with a patient or how to communicate with them or advocate for your role and their role, then you can't function in a those team-based environments," he says.
Connell says one of the advantages of Diane's stroke simulation and others like it is that you are able to get a better understanding of how clinical care works but in a safe environment where it's okay to make mistakes.  
And cataloguing those mistakes — and the successes, of course — is a crucial part of the learning experience, says Dr. MacKenzie.
"Not every student has a fantastic experience, but they learn from that for future team interactions," she says.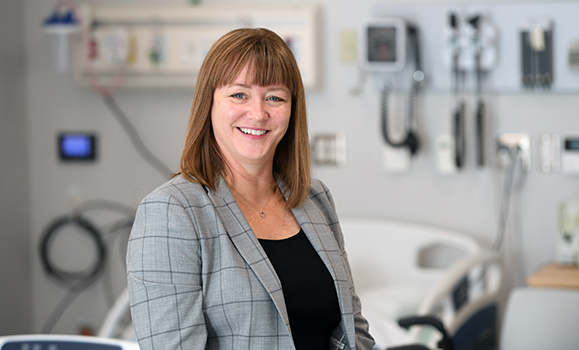 Students get to debrief with their individual instructors at their department/school level and also as part of the larger group that includes the simulated patient, peers and instructors. And, crucially, students also provide evaluations of their experiences — information that Dr. MacKenzie and others use in their research to show the impact of the simulations on learning outcomes.  
Once viewed as something to learn "when you get out there," interprofessional collaboration and education is now an accreditation standard across the board for health care education programs in Canada.
"It's all about learning how to be the best team to get the best outcomes for patients and their families, so they can be the best they can be as well," says Dr. MacKenzie.