News
»
Go to news main
Supporting wounded soldiers through sport
Posted by
Zoe Bell
on March 13, 2017 in
News
This story was orginally published by Dal News on March 13, 2017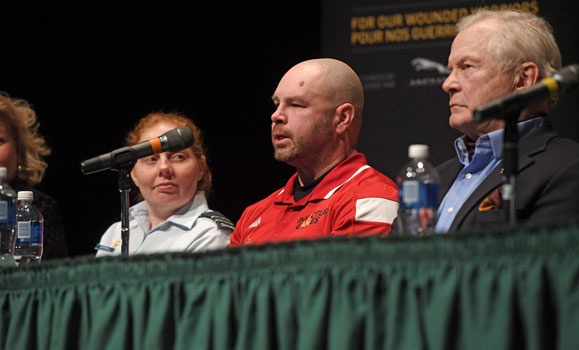 "Invictus" is Latin for "unconquered" and a fitting word to describe the wounded soldiers competing in the upcoming Invictus Games in Toronto this September.

A panel hosted by Dalhousie's Faculty of Health Professions last Tuesday explored the unique opportunity the Games provide to support soldiers and their families and to enable research on the impact of adaptive sports, a term that refers to competitive sports for individuals with disabilities.

Established in 2014 by Prince Harry, a British Army veteran himself, the Invictus Games bring together wounded soldiers from allied countries to compete in adaptive sports, including archery, athletics, indoor rowing, powerlifting, road cycling, sitting volleyball, swimming, wheelchair basketball, and more.

The mission in Toronto, according to 2017 Invictus Games CEO and co-founder the True Patriot Love Foundation, Michael Burns (pictured below right), is "transforming empathy into empowerment."
For these Games, athletes are largely selected based on who is going to benefit the most. "What we're really delivering is therapy," said Burns.  "For those struggling, it gives them an opportunity to put on a Canadian uniform, be around coaches and teammates, and have a mission and purpose."
Moving forward

For Luc Martin, a retired soldier in the Canadian Army, competing in archery at the 2014 and 2015 Invictus Games gave him back a sense of kinship. "It's knowing you're not alone and others are going through the same thing," said Martin. "It's being part of a family again."

Martin's injury due to a roadside bomb prevented him from participating in high-impact sports, leading him to discover archery. "I never stopped being an athlete," says Martin. "I needed to find something to keep moving forward."

After Martin's injury he kept reaching out to health professionals to find something that worked for him; it had gotten to the point he didn't want to leave his house. So he decided to get a therapy dog, Trail, also in attendance during last week's panel.

"He gave me something to take care of," said Martin, visibly breaking down as he stroked Trail's fur under the table. "Seven years later, we're still together."

With his injury, Martin found it difficult to talk to his family. "With my immediate family, I'm very closed off. I don't let them in. But my brothers and sisters," said Martin, gesturing to his fellow veterans on the panel, "I let them in."
Researching impacts

While the goal of Invictus is the support and awareness of the capabilities of wounded soldiers, the Games also provide the opportunity for research. Dalhousie postdoctoral fellow Celina Shirazipour is a researcher looking at the social aspect of adaptive sport.

Shirazipour's research takes a three-prong approach: studying the affect on athletes, the impacts on their families who struggle alongside them, as well as the audience who will watch this unfold.

"It's about knowing key aspects that will help with psychological healing," said Shirazipour. "We can take this information and apply it much more broadly."

Retired Major General Lewis MacKenzie notices a change in support for wounded soldiers in recent years. "Watching from the outside, it's impressive how far we've come." The Invictus Games, MacKenzie said, "bring a feeling of pride and self-image that is inescapable."

Alice Aiken, the dean of Health Professions, and rehabilitation therapist Captain Pauline Godsell rounded out the panel, which was moderated by CTV Morning Live producer and co-host, Heidi Patracek.
Burns pointed out that Canada's team this year is the largest yet, with 90 athletes competing in Toronto.

"Not just the competitors, but thousands of people watching will be inspired by what they see," he said.

Left to right: Alice Aiken, dean of Faculty of Health Professions; physiotherapist Captain Pauline Godsell; Invictus Games competitor Luc Martin; Major General (ret'd) Lewis MacKenzie; Dal Postdoctoral Fellow Celina Shirazipour; 2017 Invictus Games CEO, Michael Burns.
Learn More