Revised MScPT Curriculum Master Plan
»
Go to news main
New MScPT Curriculum Master Plan
Posted by
Joanne Tortola
on February 27, 2019 in
News
Master of Science (Physiotherapy) Revised Curriculum Master Plan

In 2015 the School of Physiotherapy was not only celebrating and reflecting on the previous 50 years of physiotherapy graduates (although that was a lot of fun!); we also initiated a comprehensive curriculum review targeting the next generation of physiotherapy graduates.
A major outcome of the review is our Revised MScPT Curriculum Master Plan.  We restructured the current course content and objectives into a revised program schedule, that will be effective September 2019 for the incoming Class of 2021. This is an exciting and important change for our students, faculty and clinical community!
THE CURRICULUM REVIEW PROCESS
During the curriculum review, feedback received from our students, graduates, part-time and full-time teaching faculty, clinical instructors, employers, public and private practitioners, and our regulatory and professional bodies was collated and analyzed. Several in-depth curriculum retreat meetings were held with both internal and external stakeholders to review the findings and discuss options to address key issues raised.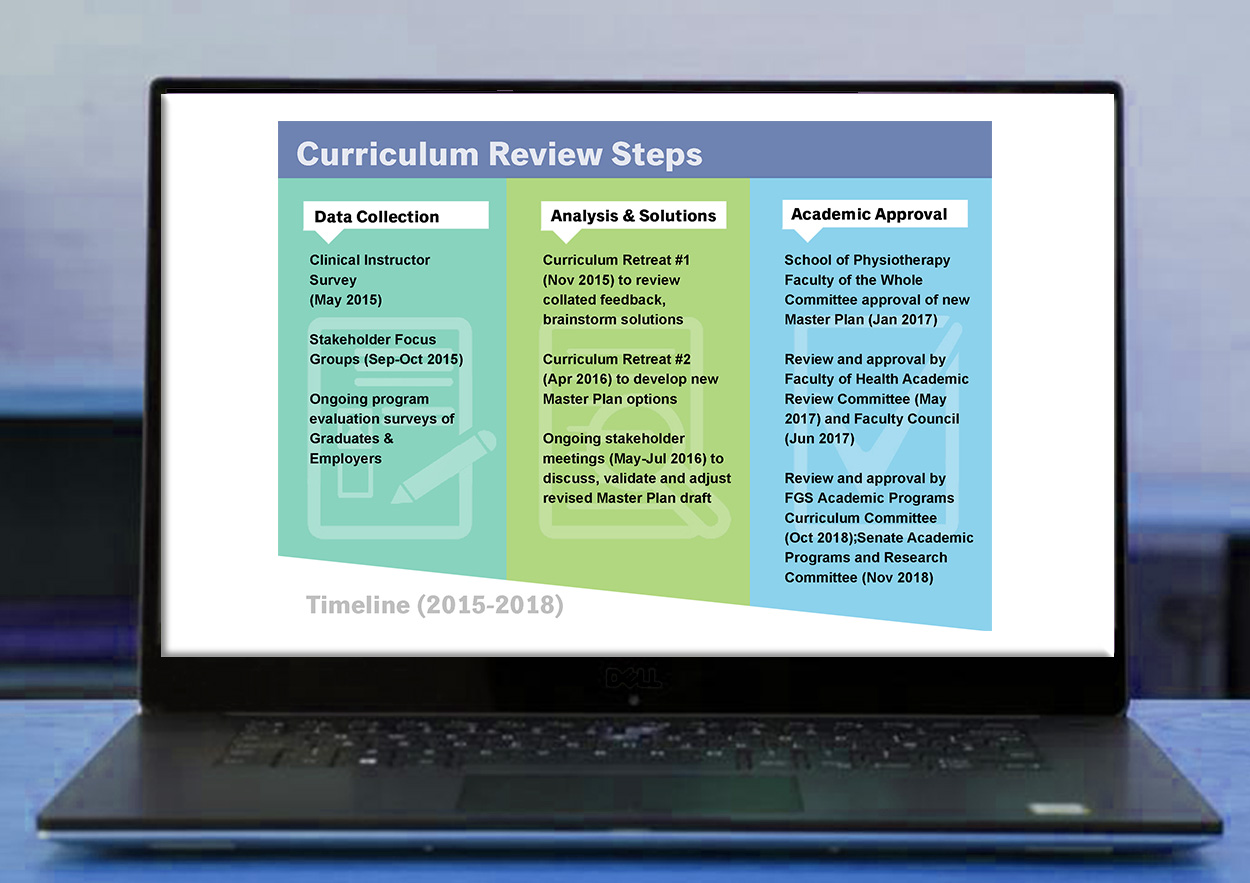 THE REVISED MSCPT CURRICULUM MASTER PLAN

The revised Curriculum Master Plan aims to improve curriculum delivery and address key issues in the following ways:
Breaking large modules (6- and 12-credit hour courses) into smaller courses and spreading them over two or more terms (moving from introductory to advanced curriculum), providing greater opportunity for absorption and timely evaluation of content.
Applying collaborative planning of course outlines by course faculty within each term, and between terms, to reduce redundancy and fill gaps in curriculum.
Introducing a 2-week clinical orientation at the end of Term 1, to provide insight and context for the academic program and clinical practice, enhancing preparedness for subsequent clinical placements.
Reducing the scheduling gap between when knowledge and skills learned in the classroom and applied/enhanced through clinical practice (i.e. MSK and Cardiorespiratory placements are more closely preceded by MSK and Cardiorespiratory classes).
Reducing the overall number of clinical placements scheduled in the summer months (Year 1 placements end mid-June; Year 2 senior placement finishes the end of July).

MScPT Curriculum Master Plan (Sept 2019 to July 30, 2021):
THANK YOU

The School of Physiotherapy greatly appreciates the time and consideration of our many community partners and colleagues who have participated in surveys, focus groups, formal meetings and informal discussions, as part of this review process. We would also like to acknowledge the diligent efforts of our Curriculum Committee and the faculty and staff of the School in moving this forward. Thank you as well to those in the Faculty of Health and Faculty of Graduate Studies who reviewed our program modification request with careful consideration and provided beneficial feedback. We continue to move forward with collaborative planning of course delivery and are confident that these changes will have a positive impact on the student learning experience in both the academic and clinical environments.