News
»
Go to news main
School of Occupational Therapy hosts world‑renowned occupational therapist and scholar
Posted by
Heidi Lauckner
on October 16, 2017 in
News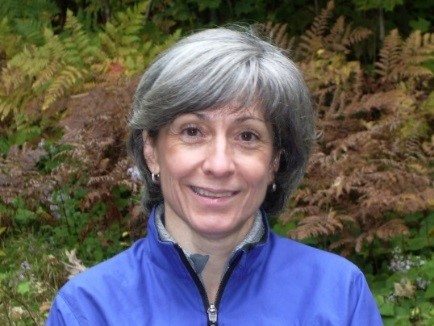 Dr. Rachel Thibeault
School of Occupational Therapy hosts world‑renowned occupational therapist and scholar
[links to video of Dr. Thibeault's CBR lecture and tweets from Townsend lecture at end of article]

By Heidi Lauckner
What a way to start off OT month! Dalhousie University's School of Occupational Therapy hosted a world-renowned occupational therapist and scholar, Dr. Rachel Thibeault, as a visiting Townsend Fellowship Scholar.
The Townsend Fellowship in Occupation and Society was established to celebrate and acknowledge the invaluable contributions of Dr. Elizabeth Townsend, one of the founders of Dalhousie's School of Occupational Therapy and School Director (1997-2010).  The Townsend Fellowship supports a Scholar-in-Residence who will galvanize scholarship in the School to investigate questions related to everyday occupations (broadly defined) and the societal contexts that influence and are influenced by human occupations.
An agent for positive change around the world
Dr. Rachel Thibeault was a very worthy recipient whose career has galvanized much positive change around the world. A Professor in the Occupational Therapy Program at the University of Ottawa, Dr. Thibeault specializes in community-based rehabilitation, psychosocial care, and issues of meaning and resilience in hard-to-access settings, communities affected by HIV/AIDS and ex or current conflict areas. For the past 35 years, she has worked around the world with diverse communities.  For her work for and with vulnerable populations, she was awarded in 2013 the title of Officer of the Order of Canada and, in 2015, the Lifetime Achievement Award from the Canadian Society of International Health and an Honorary Degree from the Faculty of Medicine at the University of British Columbia.
Enhance personal resilience through intentional activities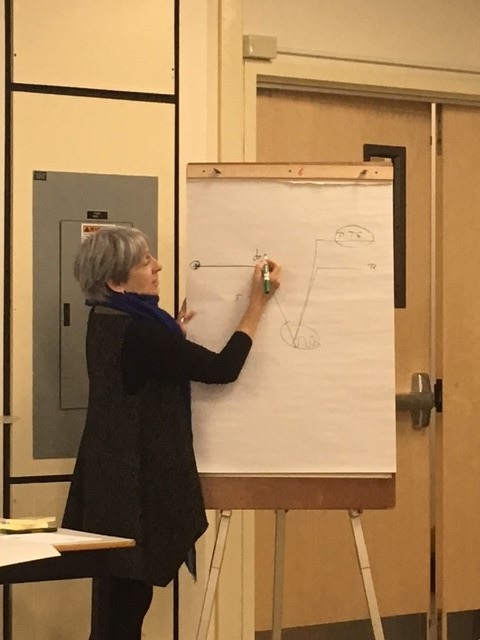 Dr. Thibeault presents her findings

While at Dalhousie University, Dr. Thibeault gave four presentations and a half-day workshop while also meeting with students and faculty.  Two presentations linked Dr. Thibeault's learning from resilient individuals around the world to recent developments in neuroscience and how we can enhance our resilience through daily intentional activities (occupations) which she labelled the 5 C's: centring, contemplating, creating, connecting and contributing.  She encouraged us to move beyond simply seeking a pleasant life that avoids discomfort to striving for a full-life that involves contributing our talents while enjoying life.  She provided striking examples of how such activities have fostered resilience in people's lives and spoke how such activities are being used to support resilience amongst health professionals.  Her half-day workshop built on these resilience-building activities as a resource for those working in peer support as a way to enhance one's own well-being as well as modelling ways of being resilience.  Another presentation engaged researchers in her use of participatory action research strategies internationally and her public talk proposed community-based rehabilitation as a strategy for thoughtfully connecting students with marginalized communities.  Dr. Thibeault left us all with ways we can professionally and personally contribute to and foster resilience and meaningful engagement.
The School of Occupational Therapy thanks the Townsend Fellowship, the Faculty of Health and the Global Health Office for the support of this Scholar in Residence.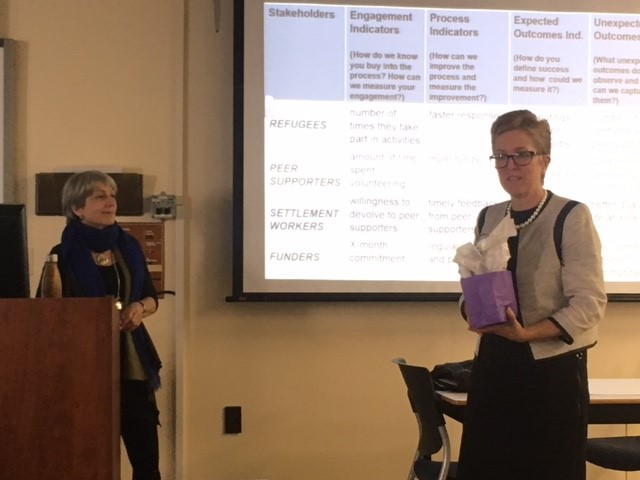 School of Occupational Therapy Director, Dr. Lynn Shaw thanks Dr. Thibeault for the stimulating lecture

OT student Anna Braunizer (@Annalie123) captured the lecture on Twitter. View Storify of tweets below.