School of Nursing News
»
Go to news main
SON, Nunavut Arctic College celebrate their 20‑year successful, collaborative partnership
Posted by
Terry Murray-Arnold
on June 28, 2019 in
News
On June 18, 2019 representatives from Nunavut Arctic College and Dal came together to celebrate their 20-year successful, collaborative partnership through the BScN (Arctic Nursing) program, and the establishment of a new Dal alumni network in Nunavut.
The School of Nursing /Nunavut Arctic College partnership has seen almost 60 graduates of the BScN (Arctic Nursing) program, about half of whom are Inuit.
"By virtue of the 'grow your own'  nature this program has made contributions to the recruitment and retention of nurses to rural and remote areas. The work that happens at the Nunavut Arctic College is a key part of our vision," said Dr. Ruth Martin-Misener, Director, School of Nursing, Assistant Dean, Faculty of Health
In attendence were members of the Nunavut Arctic College Faculty of Health and Wellness administration team, students of the BScN (Arctic Nursing) program- who were on campus taking practicums-, Dal School of Nursing leadership, members of the Dal Alumni Team and SON alumni.
The celebration was extra special as it was the first time in the history of the program that members of the Nunavut Arctic College administration and BScN (Arctic Nursing) had been on Dal campus at the same time.
"We are excited about this opportunity for our students and to work with Dalhousie in collaboration to advance the Alumni Nunavut Alumni Network," said Fiona Buchan-Corey, Dean Health & Wellness Nunavut Arctic College.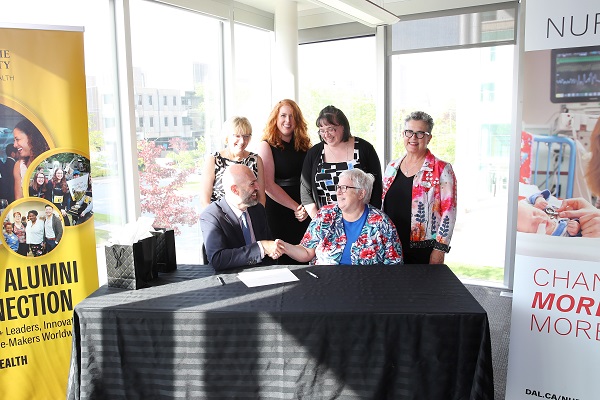 The Dal Global Alumni Network has more than 136,000 alumni in over 150 countries. Alumni ambassadors represent 19 regions across Canada and the world. The Nunavut Alumni Network is Dal's first among Canada's three Territories.
"This new network builds upon the strong history of community-minded collaboration between Dalhousie and the Nunavut Arctic College. We look forward to helping this network grow," said Barrett Hooper Associate Director, Alumni Engagement.