School of Nursing News
»
Go to news main
Kudos ‑ Celebrating significant achievements of our faculty, students and alumni.
Posted by
Theresa Gilbert
on October 2, 2017 in
News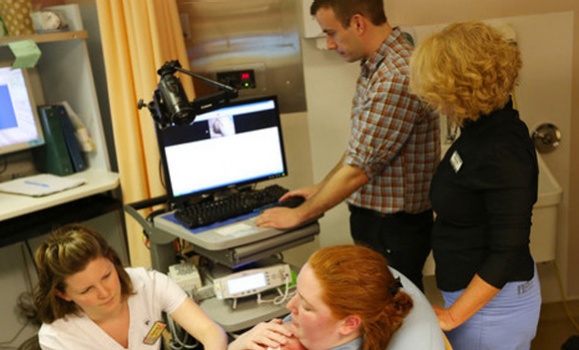 Kudos
Celebrating significant achievements of our faculty, students and alumni.
Faculty and alumni
The School of Nursing's Aligning Health Needs and Evidence for Transformative Change Joanna Briggs Institute (JBI) Affiliate Group will officially become a JBI Centre of Excellence.
Former School of Nursing director Kathleen MacMillan and alumnus, Josephine Etowa, have been inducted as Fellows of the American Academy of Nursing. Dr. MacMillan was inducted by the Academy in Washington, DC on October 7, 2017.
Dr. Ruth Martin-Misener is to receive the 2017 CASN Ethel Johns Award on November 20, 2017.
Dr. Marsha Campbell-Yeo was selected as a member of the 2017 cohort of the College of New Scholars, Artists and Scientists of the Royal Society of Canada.
Dr. Erna Snelgrove-Clarke was appointed Associate Dean – Academic (Acting) for the Faculty of Health for a one year term commencing September 1, 2017.
Dr. Shelley Cobbett is the recipient of the 2017 CASN Excellence in Nursing Education (Non-Tenured) Award.
Dr. Sheri Price is the recipient of the 2017 Faculty of Health Early Career Research Excellence Award. This award was established to recognize "outstanding research that leads to significant progress in the understanding and/or management of a health related problem". Dr. Price's program of research is broadly centered on health services with a specific focus on professional socialization, interprofessional collaboration and healthcare work environments.
Dr. Sheri Price and PhD candidate Timothy Disher were honoured with Nova Scotia Health Research Foundation's 2017 Awards. Sheri Price is the 2017 recipient of the Excellence in Nursing Research Award. Timothy Disher is the 2017 recipient of the Rising Star Award.
Dr. Lisa Goldberg received the 2017 Dalhousie University Teaching Award for Excellence in Education for Diversity.
Dr. Marsha Campbell-Yeo was awarded two NSHRF Establishment Grants. She accepted one in the amount of $99,980 for "Effect of skin-to-skin contact on acute pain response in the preterm brain."
Sheri Price and Janet Curran received bridge funding for CIHR Project Grant resubmissions; $10,000 each. Awarded by Faculty of Health in July 2017.
Audrey Steenbeek received a CIHR Catalyst Grant: Indigenous Approaches to Wellness Research in the amount of $150,000 for her project entitled "A Holistic Approach to Cervical Cancer Prevention & Treatment Among Inuit Communities: Using Inuit Qaujimajatuqangit (IQ) to Guide the Development of Culturally Competent Care."  
School of Nursing Faculty in collaboration with other investigators at Dalhousie and Tanzania, received an IDRC (International Development Research Centre) grant for $500,000 ($192,200 at Dal) for the study "Leadership and managerial capacity strengthening for quality pregnancy and newborn outcomes in Tanzania". Co-Principal Investigators are Nyamtema A, LeBlanc J, Tomblin Murphy G, Mtey G. Co-Investigators are: Kweyambe , Abel Z, Bulemela J, O'Hearn S, Scott H, Aston, M., Campbell-Yeo M, McMillan D.

Dr. Janet Curran was one of the principal investigators to receive a SPOR – Guidelines and Systematic Reviews Operating Grant through the CIHR SPOR REACH Network. Total funding is $4,997,000.
Dr. Janet Curran and Dr. Megan Aston were awarded a CIHR Patient-Oriented Research Collaboration Grant in the amount of $40,427 for "Building a strategy to support parent partnership in patient-oriented research in the Maritimes."
Dr. Megan Aston and Dr. Sheri Price received a Translating Research into Care Heath Care Improvement Research Program grant in the amount of $3,000 for "Achieving Better Care."
Dr. Lori Weeks received a Justice Partnership and Innovation grant in the amount of $159,406 for "Identifying and responding to the needs of diverse older women who experience intimate partner violence."
Dr. Marilyn MacDonald received a 2016 Sigma Theta Tau International/Canadian Nurses Foundation grant in the amount of $5,000 for "The experiences and perceptions of unpaid caregivers providing care for community-dwelling adults with dementia: A Joanna Briggs Institute (JBI) qualitative systematic review."
Dr. Erna Snelgrove-Clarke and Krista Ritchie (MSVU), received a NSHRF Catalyst Grant in the amount of $5,000 for "Building evidence-based practice capacity in Nova Scotia schools."
Dr. Ingrid Waldron and Dr. Sara Torres, School of Social Work have received an NSHRF Developmental Innovative Grant in the amount of $14,998 for "Examining protective factors for children's welfare: The case of Indigenous, African Nova Scotian, and immigrant refugee children of HRM."
Elaine Moody received a post-doctoral fellowship award worth $25,000 from the Canadian Frailty Network. Elaine is supervised by Dr. Ruth Martin-Misener and Grace Warner. 

Margot Latimer received a CIHR Meetings and Dissemination Grant to support the PICH2Go Indigenous Conference that she is co-hosting in the Fall 2017 in Halifax.  (CIHR $23,613, IWK $10,000).  
Dr. Ingrid Waldron was awarded a SSHRC Connection Grant to hold a public and academic symposium on October 27, 2017, entitled Over the Line: A Bilateral Conversation on Race, Place & Environment.
Congratulations to Gail Tomblin Murphy and Marsha Campbell-Yeo for being named two of  Canada's top 150 nurses. 
Students
Timothy Disher has been awarded the prestigious Vanier Scholarship for his work on "Cost-effectiveness of single family room care in a Canadian NICU: A randomized controlled trial." The Vanier Scholarship provides funding in the amount of $50,000 per year for three years.
Jennifer Searle has been awarded an NSHRF Scotia Scholar Award ($10,000) and a Nova Scotia Graduate Scholarship (NSGS) ($30,000/2 years). Her Supervisor is Lisa Goldberg and her area of work and research is raising the profile of LGBTQ+ knowledge and the vital role of the nurse.
Jaimie Carrier received a Canadian Nurses Foundation Nova Scotia Nurses Association scholarship ($5000) and BRIC NS research funding ($1500).
Victoria Little received an NSGS ($10,000) and the CNF Dr. Helen Mussallem Fellowship ($5000).
Ziwa Yu received a MITACS Globalink Graduate Fellowship ($15,000).
Sydney Breneol received BRIC NS research funding ($1500), an MSSU SPOR (Masters) ($18,000), a CIHR Frederick Banting & Charles Best Scholarship ($17,500), and an NSHRF Scotia Scholars (Doctoral) Award ($60,000/4 years).
Martha Paynter received a CNF Sifton Research Grant ($7500), an MSSU SPOR (Doctoral) ($25,000), the Canadian National Student Association (CNSA) Award for Clinical Excellence ($750), and an NSGS ($60,000/4 years).