2015‑2016 DUNS Newsletter

"For the Health Of It" Nursing Team
For the Health Of It (FTHOI) is a fundraiser put on every year by the health professional students at Dalhousie University. They fundraise individually and put on an educational, yet hilarious skit in a completion to prove they are the best school, but more importantly to raise funds for a selected local charity. Last year, the schools raised a combined total of $55 000 for the Regional Residential Services Society.
The School of Nursing's FTHOI team, which is a sub committee of the Dalhousie University Nursing Society, has been working hard to fundraise and prepare for the performance since the beginning of the academic term.
This year's charity is Katrin's Karepackage, which was founded by one of our fellow nursing students, Maike van Niekerk. The charity helps cancer patients by covering their travel costs to and from treatments. It started in Newfoundland, but with the money raised from this year's For the Health Of It, the charity will expand so cancer patients who live 50km or more outside of Halifax will be funded.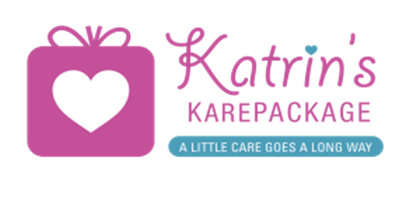 For more information on For the Health Of It, you can visit http://fthoi2015.yolasite.com and you can visit http://www.katrinskarepackage.com/en/ for more information on Katrin's Karepackage. 
-Luc Cloutier & Jordin Fletcher-

Peer Mentor Program
Coming to university from high school, or even starting nursing as a mature student can be quite the overwhelming new adventure. With so many different options, deadlines, and exams it can be a lot to take in. That is where the Peer Mentor Program comes in. With the DUNS Peer Mentor Program, upper year students are given the opportunity to provide support and guidance to first year BScN students and it has proven to be a great success this year. The newly appointed Peer Mentor Coordinator, Kelly Lucas, along with the Peer Mentor Committee have been working very hard this semester to make the mentor-mentee assignments, encourage mentors in ways to reach out to and support their mentees, and planning fun events and opportunities for the mentors and mentees to connect.

Our first big event, the surprise post physiology pick me up, was a big hit! Mentors and committee members were spread all over campus and as the first year students came out of their exam they were greeted with friendly faces, cards, and a treat bag to congratulate them. There is much more to come from the Peer Mentor Program. Stay tuned!
-Kelly Lucas-
VP Student Support
This year, we are trying to add more peer-led academic supports for students, with a special emphasis on assisting First Year students  and the huge transition into University life. So far, we have held 2 Physiology review sessions with more to come, as well as inviting people from the Writing Centre to assist with the first big paper. Writing Centre people will also be asked to assist with 2nd year writing projects, and Resume/Interview sessions will be held for both 3rd and 4th year students to prepare for hiring. Finally, a concerted effort is being made to prepare students for the NCLEX, with both students and faculty partnering in this effort.
-Melissa Doucette-
DUNS Social Committee
On Friday, October 17th, 2015 DUNS held their annual Fall Social at the Dalhousie University Club. This is the first social event of the year and it's a great way to take a break from studying to get to know nursing students and faculty in a fun relaxed setting with delicious food and great music! The Fall Social is a free event and everyone is welcome. We also use this opportunity to collect non-perishable food donations for an organization called Parker Street Food and Furniture Bank.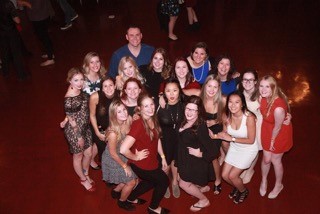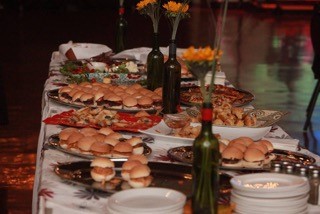 This December, the Social Committee is continuing their tradition of putting together "exam survival kits" for nursing students, which include things like juice, snacks, tea, pens, highlighters, gum, and motivational quotes to help with the stress of exam season! These will be available to students during the last week of classes.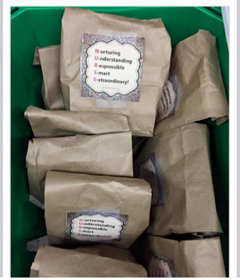 Health Promotion Committee
Co-representatives Danielle Briand and Kelsey Brownridge identified a need to have a committee on DUNS to represent the health promotion related needs of the Nursing students at Dalhousie. As nursing students, it is important for us to learn about what we can do to balance a busy schedule with a healthy lifestyle early in our careers in order to best care for our future patients. The group was founded last year as a result of this need. The co-representatives attended a conference in the spring of 2015 that sparked the health promotion theme of the year: a focus on LGBTQ and inclusiveness.
This semester the Health Promotion Committee has created their own initiatives and collaborated with many other society representatives to promote events including:
Ongoing bi-monthly exercise initiatives
Provided health promotion baskets at the Fall Social
Toured a local grocery store with their Dietitian
Provide health literature and a safe space within the nursing lounge
Partnered with the CNSA representatives to offer a self-care station during National  Nursing Students' week
Worked with the social representatives to create healthy 'Exam survival kits'
Created a Stress Busters station in the nursing lounge during the last week of classes
Continued collaboration with Dal Student Health Promotion to promote events happening on Studley Campus
The Health Promotion Committee has been in contact with the DalAllies program to bring training to our society members in the New Year! They have many other events planned for the remainder of the year and are excited to be a new part of the Dalhousie University Nursing Society.

-Danielle Briand & Kelsey Brownridge-

Annual First Year Pinning Ceremony
January 11, 2016 from 1900-2100 in the McInnes Room (Student Union Building)
First Year Students wear their scrubs! Faculty and Staff are more than welcome to come and enjoy the evening!
There will be food, music, a photo booth, and a prizes!
 
-Sam Delory-

Canadian Nursing Students Association
The Dalhousie chapter of the Canadian Nursing Students Assocation (CNSA) is pleased to announce that we will be hosting the Atlantic Regional Conference in October 2016. The theme is "Embracing Diversity: Recognizing the Many Faces of Healthcare" and will include workshops and speakers on a variety of topics such as promoting health in First Nations communities, caring for refugees, and LGBTTQIAA health. There will also be a job fair and research poster presentations. The conference will be held at the World Trade and Convention Centre in Halifax from October 21 -13, 2016. If you are interested in learning more or getting involved with the planning committee, please contact the Atlantic Regional Conference Director, Leah Carrier, at leah.carrier@dal.ca .
National Nursing Students' Week was a huge success! Leah and Lindsay wanted to include a lot of events that students could choose to attend, and although some were more popular than others, we feel that people enjoyed the events and felt proud to be a nursing student! 

-Lindsay Smith & Leah Carrier-

Dalhousie Nursing Research Interest Group
The Dalhousie Nursing Research Interest Group (NRIG) aims to promote research opportunities and its importance in future nursing practice to undergraduate students within School of Nursing. As a kick-off event of the year, we held "Nursing Research Speed Dating" event where students were provided opportunity to rotate through various stations to meet various Dalhousie nursing professors, learn more about their current research, and connect with them to get involved in their research. In addition to using innovative strategies to promote research, faculty support has been influential in making this event a successful one. We also provide other resources and opportunities for students, including national involvement with Canadian Nursing Students' Association (CNSA) Research and Education committee, research poster presentation funding for 2016 CNSA National Conference, and showcasing students' achievements at 2015 NRIG Nursing Showcase. We welcome any interested students to join!
- Sheren Anwar Siani, Co-President of NRIG & CNSA Research and Education Committee Chair-