News
»
Go to news main
Dr. Cheryl Kozey retires after 41 successful years
Posted by
Stephanie Brown
on April 13, 2023 in
News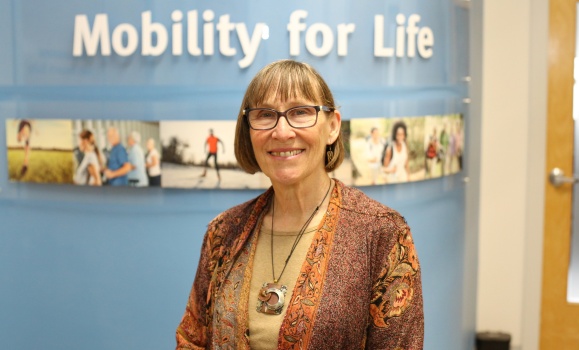 Dr. Cheryl Kozey has been a key part of the School of Physiotherapy and the Faculty of Health since she started working here in 1981.
In addition to her role as a professor, Dr. Kozey has held a variety of leadership roles including Associate Dean Research, Interim Director of the School of BioMedical Engineering and Acting Dean of the Faculty of Health. As a result, she has supported and seen our Faculty and the university from many angles.
"That's one of the things that made the job so interesting. I got a really good view of the Faculty and the university as a whole. I've seen the Faculty of Health grow and mature so much since when I first started," Dr. Kozey says.
"It took a long time for the Faculty to get the recognition that it deserved based on our leadership in a number of areas and for the research that we were doing."
Dr. Kozey helped implement many innovative changes in the Faculty, such as leading the development of the research-based  masters thesis program (now known as the MScRRPT) in the School of Physiotherapy. As the Associate Dean Research she advocated and increased awareness by consolidating our messaging around research strengths in the Faculty, helping to develop and implement the PhD in Health program, adding to our CRC allotment from the university, and advising, supporting and recognizing individual researchers including a formal Research Celebration Event.  
"Dr. Kozey played a pivotal role in advocating and strategizing to advance the research portfolio in the Faculty of Health.  We are working from the significant foundation and momentum that Dr. Kozey created to propel the research of our faculty and students. She was instrumental in creating systems, processes, and more importantly a shift in our culture and workplace expectations that supported the cultivation of a rich environment for scholarly work." - Dr. Brenda Merritt, Dean, Faculty of Health
'This is an awesome job'
"I would have to say some of my proudest moments are related to students and their successes. This includes numerous scholarships and student presentation awards but also bumping into students at different events to see how they have grown and how they are contributing to their profession, research and their communities. To hear them say you had some impact on their success; I really take a lot of pride from that."
Dr. Kozey has supervised over 100 undergraduate Physio student research projects, over 50 thesis master's, doctoral and post-doctoral research trainees, plus Research in Medicine and MScPT student research projects.
"Every year you have a new group of keen, very intelligent young people wanting to learn and you just think, wow this is an awesome job."
Dr. Kozey says similarly to the pride she feels from students, she also has had the experience to mentor faculty and she loves seeing them achieve their goals, supervise their first masters' or doctoral students or get that first grant.
Award winning career
Not only is Dr. Kozey highly regarded by her peers, she is recognized nationally and internationally for her research contributions and mentoring. Her research focuses on improving mobility for people with musculoskeletal problems; specifically knee joint osteoarthritis and lower back disorders. She's proud of the multidisciplinary team that has evolved at Dal with different professions and disciplines working together to improve musculoskeletal health and mentor the next generation of researchers from a variety of graduate research and professional programs.
Dr. Kozey's research expertise and leadership were formally recognized through the Canadian Society for Biomechanics Career award in 2016.
She also received a distinguished service award from the Faculty of Graduate Studies for her success with recruiting and training high quality masters and doctoral students, and her contributions to the Physio research masters' program, Biomedical Engineering "BioMedic" training program and the PhD in Health.
Retirement goals
Looking ahead to retirement, Dr. Kozey pictures lots of time playing golf and time at the cottage with her husband, family and friends. She looks forward to travelling to California where her daughter, her daugher's partner and two grandsons live, and spending time with her son and his partner in Czechia.
At the recent retirement celebration for Dr. Kozey, the School of Physiotherapy announced the creation of the Cheryl Kozey Prize to honour her contributions to the school. This prize will be awarded to a graduating student from the Master of Science – Rehabilitation Research (MScRR) program. Dr. Kozey took the lead in the development of this master-based thesis program which was approved in 1995. If you would like to know more about this prize please contact Tamara Parry, Advancement Director, Faculty of Health (EM: tamara.parry@dal.ca or PH: (902) 240-0712) or you can make a gift online at giving.dal.ca/cherylkozey