News
»
Go to news main
Dr. Shanna Trenaman working to ensure appropriate prescribing, better health outcomes for seniors
Posted by
Dawn Morrison, with files from Nova Scotia Health
on January 28, 2022 in
News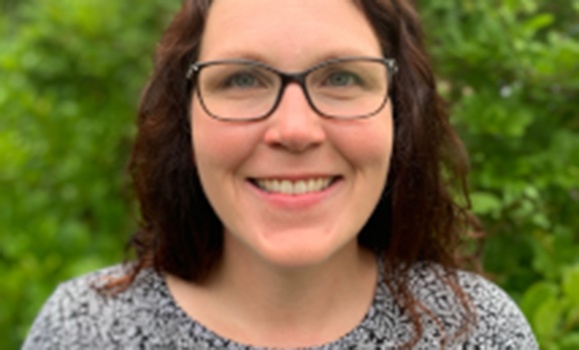 Dr. Shanna Trenaman (BSc Pharm) 2008, ACPR 2009 MAHSR 2014, PhD 2020) is conducting award-winning research looking into antipsychotic drug use — and in some cases, overuse — among Nova Scotia seniors in long-term care facilities.
Antipsychotics represent a class of medication prescribed to older adults with dementia to try to manage some of the challenging behaviours associated with the syndrome. Studies do not show significant benefits for management of most behaviours associated with dementia. And the risks are considered significant enough that both Health Canada and the FDA provided safety warnings and request manufacturers include warnings on drug safety information sheets due to the increased risks of death related to the use of antipsychotics by older adults with dementia.
A recent study showed that 90 per cent of antipsychotic prescriptions to older adults in Nova Scotia were issued to those in a nursing home and some 40 per cent of all seniors living in a nursing home have had at least one antipsychotic prescribed.
"We wouldn't expect that many prescriptions to be issued to this group. They might be prescribed to treat dementia or sleep disorders, but some of these medications are quite sedating and can cause falls," she says. Trenaman adds that over the long term, these medications can cause other health risks for seniors such as weight gain related to some antipsychotics and increased risk of stroke for people with dementia.
A hospital pharmacist, Trenaman's work is focused on ensuring patients' medication is safe, effective and suits their needs. She has been a pharmacist at Dartmouth General Hospital for many years and is also a postdoctoral fellow with the Division of Geriatric Medicine Research at Dalhousie, studying the effect of various medications on the development of dementia-related neuropathologies.
Recently, she won the Keith E. Borden Award for Best Student Oral Presentation at the Canadian Association of Population Therapeutics meeting (CAPT 2021). Trenaman presented the winning study on behalf of her colleagues Ingrid Sketris and Sam Stewart at Dalhousie University, Mai von Maltzahn at Nova Scotia Health and Hala Tamin at York University. The research focused on dispensing patterns of antipsychotic medications to Nova Scotia seniors in the Pharmacare program living in long-term care facilities from 2009-2017.
It assessed factors associated with the continuation of an antipsychotic after a fall-related hospitalization. Researchers found that 40 per cent of these residents received at least one antipsychotic dispensation in each year studied. Of the 544 study participants who had a fall-related hospitalization, over 80 per cent continued an antipsychotic after hospital discharge.
Multifaceted approach
Trenaman is involved in development of a collaborative educational program for health professionals on deprescribing. One of the projects she led was a study to get pharmacists affiliated with primary care to take the lead on deprescribing and discontinuing medications that create more risks than benefits. She says a multifaced approach and collaboration across health disciplines is key to appropriate prescribing and creating better health outcomes for seniors.
"If antipsychotics are used to treat dementia, that's not always the best choice. It's not just one person's job, but our collective responsibility to ensure optimal prescribing. For instance, if someone comes in for physiotherapy after a fall, the physiotherapist might recognize that the person is on a medication that increases falls risk and everyone can work together in a team-based approach to ensure the very best care for the patient."  
Further study is warranted to understand the role of factors such as the patient's age and sex, in influencing the prescription of antipsychotics. The study recommends regular evaluation of antipsychotics prescribed to residents of long-term care homes and deprescribing these drugs when warranted. If patients have concerns about their own medications they should continue to take their medication as prescribed and should discuss with their healthcare provider.
Find out more on deprescribing by visiting: www.fewerpillslessrisk.ca