News
»
Go to news main
'Community is key': MScOT grad hopes to increase access to OT support in NS and NB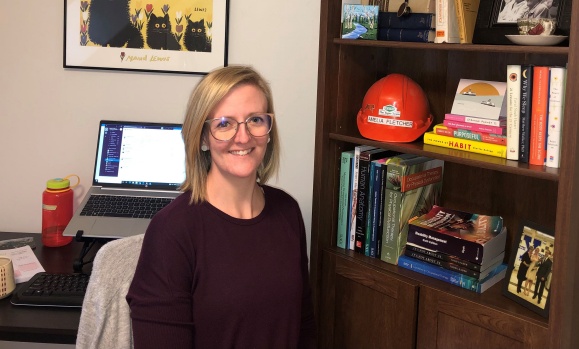 Convocation Q&A: Amelia Fletcher
Congratulations to all of our Dal Health Class of 2021! To celebrate Fall Convocation 2021, we chatted with students from across Dal Health.
Name: Amelia Fletcher

Pronouns: she/her
Degree: MSc Occupational Therapy (2021), Disability Management Certificate (2019), BSc Human Kinetics (St. FX, 2015)

Where you're from: Harvey Station, NB
How significant is it for you to receive this degree?
The MScOT program at Dal opened my eyes to a side of healthcare that I never knew existed – and a profession I am profoundly proud to be a part of. It has allowed me to advocate for inclusion in our communities, schools, workplaces, homes and institutions. Because of my MScOT I look at the world through a lens where "doing" and "belonging" are critical to our wellbeing and because of that, everyone has the right to "do" and "belong". I've always believed that community is key to health promotion and maintenance. My MScOT provided me with the skills and education to listen, reflect and support people in accessing their right to build and participate in inclusive, supportive and resourceful communities.
What were the highlights of your degree?
The highlight of my degree was learning from faculty, staff and preceptors who genuinely cared about our wellbeing and success. Their empathy toward our class (especially during the COVID-19 pandemic) and passion for the practice areas and research they work in made learning exciting, engaging and impactful.
What brought you to Dal and to your program specifically?  
I always knew I wanted to work in healthcare, but it took me a few years to figure out exactly what that would look like for me and where I fit best. I am fortunate to have many role models including my parents, grandparents, cousins, and friends who volunteer their time to our rural hometown to create opportunity for others. Their leadership in the community over the decades has contributed to access to ambulance services and food security; reliable transportation services; leisure-based activities and funding to support and sustain what I now know is "occupation-focused" programming. I knew I wanted to have a career where I could advocate for folks to access opportunity to be well like so many people I look up to have and continue to do. Becoming an occupational therapist provided that fit.
What will you miss about your time in Occupational Therapy?
Anybody who is an OT understands the challenge of explaining what exactly our profession does and the impact it can have on quality of life. I will miss being surrounded by people who share a similar understanding and having conversations about the impact of our work. I am excited to embrace the challenge of advocating for the inclusion of our service in less traditional practice areas and the value it can bring – even when those conversations might not come easily.
What topics/research did you become passionate about during your education?
During my first year I purchased a book written by Karen Whalley-Hammell, a leader in our profession, that challenged occupational therapists to look beyond how we can maximize function and minimize impairment and start looking at people's abilities and opportunities to engage in everyday occupations.
"Many people already have the ability to engage in everyday occupations; they just need the opportunity to do so!"
I fell in love with this idea and it inspired me to root my practice in the community development framework – a process I feel can lead to the biggest impact for the most people.
What was your biggest learning experience? How important do you think life-long learning is?
My biggest learning experience was learning that I don't always know, and that there is power in not knowing. We could have all the education in the world, and still not know how our neighbours experience the same world we all live in. When we take time to recognize that, reflect, listen, un-learn and re-learn we're taking steps to create more inclusive communities that benefit the most people.
How did the COVID-19 pandemic affect your studies/work?
The COVID-19 pandemic has been a great example of the importance of occupational balance for me. Not being able to participate in a lot of activities that bring joy and meaning to my life has had negative impacts at times, but it's also shown me that I'm a healthier version of my self when I take time to rest, recharge and prioritize the activities I use my time and energy for. It also showed me how to be resourceful in promoting occupational engagement. Having to think outside the box and be flexible through transition has made me a better clinician.
What's next for you? How will you impact the future?
I'm currently working in Nova Scotia and New Brunswick to develop an occupational therapy division for Capture Therapeutics, a private practice with a mission to change the way healthcare is experienced. With this role I'm excited to not only be a clinician and encourage inclusion of our services in day-to-day client care, but also to develop occupation focused programming and advocate with stakeholders to increase access to OT support. I hope to play a role in creating an understanding of who OTs are, what we do, and the impact our profession can have in all areas of society.