News
»
Go to news main
'I'm taking a treasure with me': MSc in Rehabilitation Research grad reflects on her achievements at Dal
Posted by
Dawn Morrison
on June 17, 2021 in
News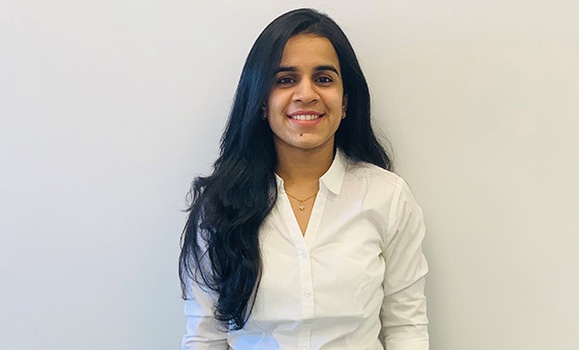 Convocation Q&A: Purva Trivedi
Congratulations to all of our Dal Health Class of 2021! To celebrate Spring Convocation 2021, we chatted with students from across Dal Health.
Name: Purva Trivedi

Pronouns: she/her
Degree: MSc Rehabilitation Research in Physiotherapy

Where you're from: Gujarat, India
How significant is it for you to receive this degree?
I consider this an extremely valuable asset to add to my profile. MSc Rehab Research has opened up pathways for me to expand the boundaries of my work profile and will serve as a great source for me to enter into academics and teaching in Physiotherapy. 
What were the highlights of your degree?
Pursuing MSc Rehab Research at the School of Physiotherapy was a very delightful experience throughout; especially with such a wonderful and lovely team. Taking a totally new research project at hand from scratch and working through each and every step of it, which to list are many, was something very fascinating and exciting, I would say. I would definitely give credits to my super amazing, and extremely lovely mentor Dr. Gail Dechman for giving me this worthy opportunity and helping me go and grow through this.  
What will you miss about your time at Dal?
The list is exhaustive and my nostalgia for this incredible time I've spent at Dal would always leave me with happy tears throughout my life. To jot down a few: 
The school of PT and the most beautiful Forrest building 
The most humble crew at the school of PT and Dal that I've met during my tenure and their helps during different stages of my MSc
The time I've spent at Killam library grad pad – 4th floor; revising my thesis proposals
My time at the CHEB learning commons writing my research ethics applications
Enjoying Halifax summers and red sunsets at the beautiful chairs with perfect patio lighting in front of the Henry Hicks building 
My time at the Dalplex and the Dal tennis courts meeting many new friends 
I can still keep going on and on. As I said, the list is exhaustive and I'm already into tears writing this. But, I know that I'm taking a treasure with me. A treasure of experience, growth, knowledge, professional relations, and a lifetime achievement of being called a Dal Alumni with me, as I walk out.  
What was your journey to Dal and to this program?
With my clinical degree in Physiotherapy from India, I wanted explore my options in research and academics because that has always been interesting to me. I wasn't sure if I were a good fit for the same, so taking MSc Rehab Research in Physiotherapy was a small step to analyse if I can find the groove in this field. Dalhousie was amongst the top most credited universities listed on the Canadian Council of Physiotherapy University Programs, so I started exploring the profiles and work of research supervisors at Dal to see if that's interesting to me. I was amazed with Dr. Gail Dechman's profile and the huge experience she had mentoring so many research students. To be honest, I was and am still so inspired from her that I wanted to join her as I knew it would be a very worthwhile experience to grow as a researcher under her guidance. Luckily, she agreed to supervise me and I was able to apply to Dal for this program.              
What topics/research/work did you become passionate about during your education?
My research project involved developing a new method for making a physiotherapy muscle power assessment. During my work, I found myself working round the clock without a feeling of exhaustion just because I was so fascinated with the issues encountered and the solutions I could come up with. At the end, I was extremely happy with the results of my project, the arrays of research it opened up and the amount of change it could bring to the physiotherapy care. After my experience through MSc, I became more passionate about researching the current methods of assessment and developing easier, feasible and more accurate alternatives for the same to improve the physiotherapy clinical care. 
How did COVID-19 impact you during your studies?
The research labs were shut down due to the pandemic which placed a halt on my lab work for a while however, the labs resumed to work and I was able to finish up. All research committee meetings had to be shifted to virtual platforms including my final thesis defense which would have been more enjoyable if would have happened in person.  
What's next for you?
I believe having a clinical experience is always an asset while I want to further my career in academics and research. Therefore, I'm currently working on getting into clinical practice as an internationally trained physiotherapist. After getting into clinical practice, I definitely foresee myself pursuing a PhD and thereafter making my small contributions to the physiotherapy clinical care count.