News
»
Go to news main
'Passionate about helping people': Therapeutic Recreation grad to continue studies at Dal
Posted by
Terry Murray-Arnold
on June 9, 2021 in
News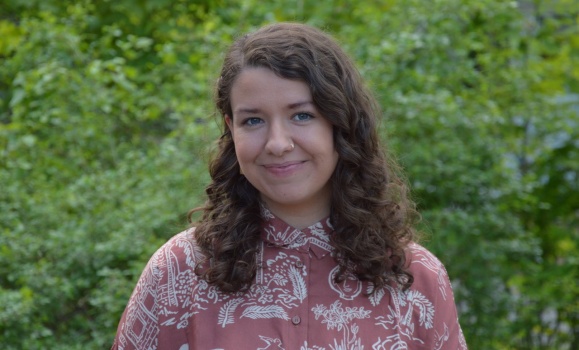 Convocation Q&A: Brittany Bhatnagar
Congratulations to all of our Dal Health Class of 2021! To celebrate Spring Convocation 2021, we chatted with students from across Dal Health.
Name: Brittany Bhatnagar
Pronouns: she/her
Degree: BSc (Therapeutic Recreation, Honours)
Where you're from: New Brunswick
How significant is it for you to receive this degree?
My undergraduate pathway at Dalhousie was untraditional as it took a little longer than average to hone in on my interests, however by third year I discovered the Therapeutic Recreation (TR) program and it ended up being a really good fit. As for the significance to this degree, I am very fortunate and privileged to have been provided with this opportunity. I am the first to receive a university degree on my maternal side, which is considerable.
What were the highlights of your degree?
There are too many highlights to fathom. When putting my highlights into words, I would suggest that being a part of such a niche program was critical to my success. The TR program provided space for interactive learning with peers and other health professions, close relationships with professors, and a community who seeks to achieve similar goals. I really appreciated the chance to develop both professional and personal relationships through my program. And of course, a final highlight would be passing the Certified Therapeutic Recreation Specialist (CTRS) examination this past May– which is what our whole degree aims to achieve!
What will you miss about your time at Dal?
In terms of missing my time at Dalhousie, happily I will be returning in September to complete a Master's of Science in Occupational Sciences.
What was your journey to Dal and to this program?
My journey to Dalhousie began when I was in junior high and was set on going to Dalhousie. When it came time to apply for universities, my dream stayed true to the point of only applying to Dalhousie – talk about putting all your eggs in one basket. Happily, I was accepted to the general sciences program as I initially had no clue on what I actually wanted to do, but I knew I wanted to do it at Dalhousie.
As for my journey to the TR program, I joined a little later than usual, however feel as though I still experienced the fullness of this program. I have always been passionate about helping people and supporting people in various ways. Fortunately, the TR program taught me the importance of implementing recreation and leisure to daily living to enhance well-being, especially mental health. I think learning about new tools to support well-being is critical to living a full life.
What topics/research/work did you become passionate about during your education?
My undergraduate degree provided me the opportunity to become passionate about research. I completed an honours project under the supervision of Dr. Karen Gallant where I performed a scoping review on adult engagement with urban nature as a means to mitigate daily stressors. The research process is so intriguing to me and has helped me to understand the importance and value of performing research to enhance the lives of many. I have always been an advocate for mental health, so exploring different ways to influence mental well-being is of particular interest to me.
How did COVID-19 impact you during your studies?
Like many, COVID-19 impacted my studies greatly. Although the pandemic meant I finished my degree virtually, it allowed for me to explore different ways of learning and navigating work-life-balance. The main way in which the pandemic affected my studies was that it required me to shift my entire honours project, however this allowed for me to experience various research methodologies which was a highlight.
What's next for you?
As for me, I will be coming back to Dalhousie in the fall to begin a Master's of Science in Occupational Science. I am really looking forward to this new program and to be working under the supervision of Dr. Heidi Lauckner (School of OT) and Dr. Karen Gallant (School of HAHP). I believe this program is complimentary to my background in TR, and I hope to pursue further research on adult well-being, particularly adults here in Nova Scotia.