News
»
Go to news main
First‑of‑its‑kind study examines the impact of bed rest on the body
Posted by
Lil Crump
on May 17, 2021 in
News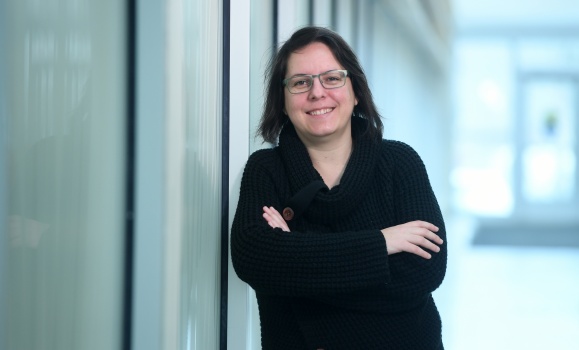 In partnership with the Canadian Space Agency, the Canadian Institutes of Health Research, the Canadian Frailty Network and seven other research teams across Canada, a unique Canada bed rest study will examine the impact of complete bed rest on the human body. Twenty-four healthy individuals between 55 and 65 years of age will participate in the study, which will involve lying in bed with their heads slightly tilted down for 14 days. Half of the subjects will receive a physical exercise intervention that includes strength and aerobic exercises to see if this impacts different health outcomes.  
The multidisciplinary team based at Dalhousie is led by Dr. Olga Theou, a Tier II Canada Research Chair and Assistant Professor in the School of Physiotherapy. She is cross appointed with the Department of Medicine at Dalhousie University and continues to be an Affiliated Scientist of Geriatric Medicine with the Nova Scotia Health and an Adjunct Senior Lecturer of Medicine with the University of Adelaide, Australia. Her research is focused on the epidemiological and clinical aspects of frailty, aging, physical activity, and sedentary behaviours.
Dr. Theou and her research team will study how prolonged bed rest impacts frailty levels and other biological markers such as blood biomarkers, inflammation levels, and the microbiome. The researchers will also examine whether, after the bedrest period, frailty and biological markers are different between those who participated in the exercise intervention and those who did not. The project aims to better understand biological changes associated with frailty and explore whether changes in inflammation, and the microbiome can explain any changes in frailty.
"These findings will have a very important impact to help better understand the dangers of prolonged bed rest in older adults, particularly during hospitalization, and can help protect against health problems that astronauts may experience during space missions or after they return to Earth," says Dr. Theou.
As adults get older or sicker, they tend to be less physically active and spend more of their waking time sitting or lying in bed. These higher levels of sedentary behaviour can cause their health to worsen, which is a problem for older adults both at home and in hospitals. There are many parallels between astronauts in space and sedentary behaviour in older adults. In space, astronauts have lower physical activity levels and are in a weightless environment for a long period of time which affects their healthy similarly to bed rest on earth.
Find out more:
Feature article, Dalhousie Faculty of Medicine: Government of Canada invests in first‑of‑its‑kind research study on the health impacts of inactivity
To set up an interview with Dr. Theou, please contact:
Dawn Morrison, Director of Communications, Faculty of Health
dawn.morrison@dal.ca