News
»
Go to news main
Helping all Nova Scotians 'one call at a time'
Posted by
Terry Murray-Arnold
on May 14, 2021 in
News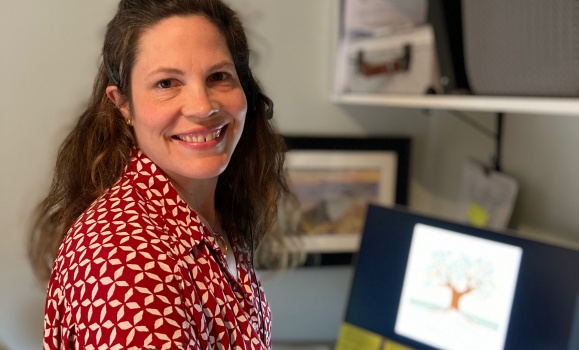 Since COVID hit Nova Scotia, Pauline Surkan (BScN '17) has been on the front lines protecting our communities. We first interviewed Pauline in May 2020 while Nova Scotia was in the grip of the first wave of the pandemic and the RN had volunteered to work extra shifts to help staff a busy drive-thru assessment centre.
In November 2020, Pauline took on the role of public health nurse (PHN) contact tracer/immunizer. Her training was cut short when wave two hit Nova Scotia and new hires had to get to work.
She was assigned to the School Outbreak Team of PHN where she has since tackled positive cases that have a school exposure including daycares, elementary/high schools, and universities. Pauline works closely with the case and the school principals to collect all the close contact information so they can identify acquisition and transmission events and make sure that close contacts are isolating. "This can be as many as 100 close contacts per student, especially if buses are involved," she reported.  
From one front-line to another
As the province has been experiencing a surge of cases in wave three the work has been demanding. "We can easily work 12-14 hour days and the work doesn't stop," she said.  
Pauline finds the work mentally and physically exhausting. "There just isn't enough time in the day. When we have so many cases, I get a feeling of nausea in my stomach because I feel I can't move through my work fast enough to get to the next person."
Pauline reports that every household she calls is different. "There are multigenerational households, families with multiple young children, and families who are struggling to make ends meet even before COVID was a reality", she said. Pauline uses all available resources to support these individuals and answer their questions.
"Even if I am exhausted, I love what I do. I feel like I am helping all Nova Scotians even if it is 'one call at a time'. Our team is great and supporting one another through the rough times and I couldn't do it without them and the support of my family," Pauline said.
Since joining the contact tracing team, she has mostly been working from home and had to juggle professional and family life like many Nova Scotians. "Now our two children are doing at home learning while I am working. They are a little older now and more or less self-reliant but their needs are always in the back of my mind."
Advice to fellow front-line health professionals
To avoid burnout, Pauline recommends her fellow health professionals set boundaries. "My family is a priority and physical activity is very important to me. If I compromise on the personal areas of my life, things start to fall apart. I do get stressed and exhausted but try to start fresh each day," she said.  
Pauline also tries to stay connected with family and friends outside her home through calls and text. "These connections are very important to maintain and give me something to look forward to once we can gather again."