News
»
Go to news main
Innovative new tech for better health care in Nova Scotia
Posted by
Dawn Morrison
on May 13, 2021 in
News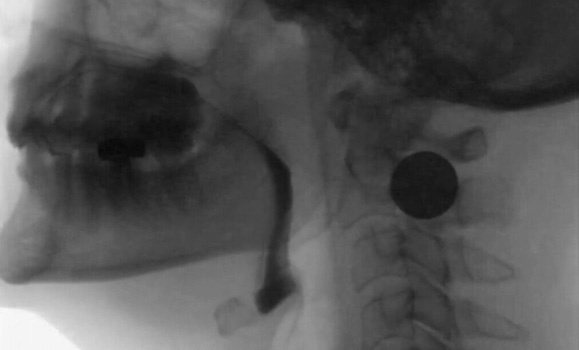 Most of us who have taken a sip of water and had it 'go down the wrong tube,' know immediately what it feels like: horrible. It's usually a few seconds of panic followed by coughing until you can finally breathe again. Eating and drinking is something most of us take for granted but it is critical, not only to ensure that we stay nourished and hydrated, but also in terms of how we socialize, celebrate events, and mark occasions. A large number of individuals can no longer swallow safely (or have never been able to swallow safely) and that not only affects health and well-being, but it majorly impacts a person's ability to participate in social events. Difficulty swallowing is also known as dysphagia.
Dr. Rebecca Affoo in the School of Communication Sciences and Disorders at Dalhousie University received an EFA grant and utilized it to purchase a TIMS medical video platform. The device is going to be used in partnership with Hearing and Speech Nova Scotia at the Victoria General Hospital site to help improve swallowing care for Nova Scotians as well as to advance research.
"Swallowing protects your airway while you eat," says Dr. Affoo. "When people have dysphagia, they may have trouble closing their airway during the swallow, which results in food or liquid being misdirected into the lungs. Sometimes pneumonia can develop after material goes into the lungs instead of the stomach."
Dysphagia can also result in reduced efficiency of the swallow with residual material left behind in the throat after the swallow has been completed. This can lead to nutritional and hydration needs not being met.
The first step to treating dysphagia is getting accurate data on what's happening when a person swallows. This can be challenging to do because swallowing happens inside the throat.  A modified barium swallow (MBS) study—a dynamic x-ray of a person eating and drinking that is performed using a fluoroscope and recorded to video—is a gold standard method of evaluating swallowing. The addition of the TIMS medical video platform allows for better quality images of swallowing to be captured at a higher frame rate, giving clinicians and researchers better information to diagnose and treat people with dysphagia.
"Swallowing problems are hard to see. With the new machine, we can evaluate a person's swallow by capturing 30 pictures a second and this will improve the clinicians' ability to describe swallowing problems and come up with solutions," says Dr. Affoo.
Dr. Affoo is grateful for the financial support that made purchasing the machine possible. "I'm very thankful that Dalhousie would feel my cause is worthy and they would want to support me. Because of this purchase, we can provide better care for patients, engage in collaborative research, and ultimately improve quality of life for people affected by dysphagia."
-------------------------------
For more information or to schedule an interview with Dr. Affoo, contact:
Dawn Morrison, Director of Communications, Faculty of Health Dawn.morrison@dal.ca
Pictures of the system can be found here: https://tims.com/