News
»
Go to news main
'A Rewarding Profession': The first Black Nova Scotian to graduate from the College of Pharmacy, Bruce Johnson, reflects on career and community
Posted by
Dawn Morrison with files from Dalhousie University Alumni
on February 25, 2021 in
News
,
Alumni & Friends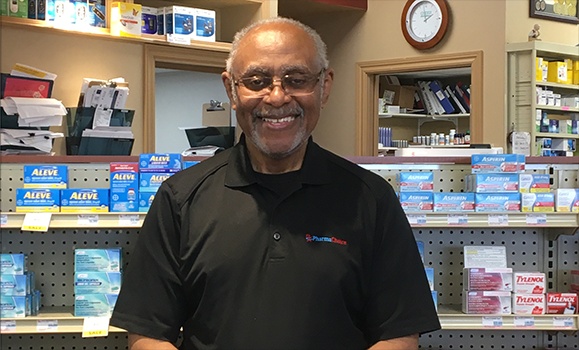 When Bruce Johnson (BScPH'74) decided to attend the Dalhousie College of Pharmacy more than 40 years ago, he didn't realize he'd be making history as the first Black Nova Scotian to graduate from the College in the province. A long and successful career has followed — today, he is a pharmacist and partner with PharmaChoice City Drug in Yarmouth and someone who is well-known for helping others.
"I've always been a community-minded person. Growing up, there were three pharmacists on my street who owned their own drug stores, and I saw that they were the cornerstone of the community," he says. "By the time I took a summer position at the pharmacy in the Yarmouth hospital in 1969, I knew pharmacy would be my career path."
He had no idea when he entered Dalhousie's College of Pharmacy in 1970 that by pursuing his goal, he was paving the way for future generations as the first Black Nova Scotian to graduate from the program.
"Dalhousie being an international school, there was a Black person from Bermuda in my class, and a few other Black international students, but I was the only Black person from Nova Scotia in Pharmacy at the time. Growing up, I was always the only Black person in the class, so it was something I was used to," he says.
"I didn't realize until after I graduated that I was the first Black pharmacy graduate from Nova Scotia. Since that time, things have changed for the better, but we need more in the pharmacy profession who look like us."
When asked what can be done to increase inclusion and diversity in the profession of pharmacy, Bruce says it starts with the high school curriculum and perhaps earlier. "We need to encourage more people of colour to pursue education and be sure to have all their math courses," he says. "Too many students close off their options when they don't pass math and science courses in junior high and high school. If they get the marks in those classes, they have more educational and career choices open to them."
Also, he says more people need to be talking to Black high school students about how rewarding pharmacy is as a career. "You make relationships with all of your customers. They sometimes ask you personal questions that they don't even want to ask their doctor. We end up being on the front line of medicine. If you are a community-minded person like me, it's great way to connect with people and make a real difference."
The lifelong Yarmouth resident is well known as someone devoted to helping others, as a committee member of the Black Employment Resource Centre in Yarmouth (which he helped launch in 1997), a member of the hospice committee and a volunteer with the Southwest Employment Agency. Bruce is also a strong voice for advancing diversity in his chosen field and in the community.
"I talk to high school kids on Zoom about pharmacy, I'm constantly promoting the profession," he says. "I had a lot of support and encouragement from my family and those who knew me, so I like to encourage young people to follow this path."
He is especially proud of one person who followed in his footsteps — his oldest daughter, Vanessa (BScPH'10). "I think this is a great profession," he says. "Every day, you get to help others, and you go home with a sense of satisfaction that you've done something important, that you made a difference. That's why I nudged her into doing it."