News
»
Go to news main
Alumni Profile ‑ Joanna Davies: Leading edge of change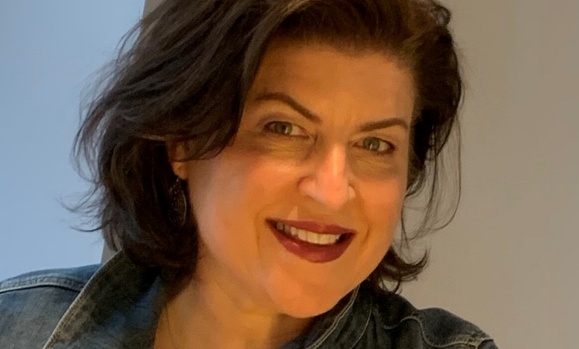 Growing up at the Head of St Margaret's Bay in a naval family, Joanna Davies (BScK'89) wanted to stay in Halifax, and Dalhousie University had just started the Kinesiology program. With plans to go into sports medicine, it was the logical step.
Her father was a senior officer in the Royal Canadian Navy. Joanna was in the Naval Reserve for all 4 years at Dal and when she decided not to pursue medical school, she chose to make the Navy her career and switched over to the Regular Force. "It seemed like a logical career path, with my family background and having already served 4 years in the Naval Reserve. And while it seemed to me like the path of least resistance, my decision put me on the bleeding edge of women in combat roles in the Navy. It was certainly not without challenges, obstacles, and situations that others may have run away from, but I did and continue to run toward challenges," she says.
She didn't view herself as a 'female naval officer' but a naval officer working alongside colleagues who were both men (the vast majority) and women. She always strove to do her best and never focused on the fact that she was an individual on the leading edge of change. Joanna recognizes she wasn't fully aware of what she would be facing. "Apart from being in a very non-traditional role, you never really know what to expect until you are in the job, living the life — and the Navy is your life, it's not just a job. I knew that there would be a lot of 'old salts', those seasoned sailors who had never served with women at sea and who were incredibly resistant to change! We were viewed as 'weaker and less capable; we should be serving elsewhere in more traditional, administrative roles and our presence at sea would ruin things.' With a very active rumour mill, I always preferred when people made their comments to my face so that I could either diffuse the situation or tell them that they were entitled to their opinion but I was entitled to be there!"
She says in combat roles like serving in a warship, in the field or the air, on deployments, or in battle zones, women have had more to prove than their male counterparts. They invariably had to work harder to be accepted and to not lose themselves while trying to fit in. "There are situations that I will not talk about, things that no one should have to go through, no matter what the circumstances, but I not only survived but became a better leader, with more compassion, resilience, and strength, with intolerance for injustice, poor treatment and ignorance. Most situations and attitudes have changed dramatically since the late '80s as society has evolved and the number of women in combat roles has increased, but there is still more progress to be made."
Take leaps in your career
From her experiences Joanna learned she was a very strong and capable officer, able to keep a level head in pressured and stressful situations. "I also learned that I shared a lot of the very positive strengths, personality, and skills that my father had. He was a man who was well-loved and respected, a mentor and champion to those who served under him, and I always strove to be just as strong and supportive as a leader." Throughout her 30-year naval career, she developed a passion for mentoring and has carried that through to her work in the private sector. If she can help someone else, through mentoring or providing support to her team, she will always do that.
Joanna also earned her master of business administration and Project Management Professional certification along the way and paired with her defence experience, she transitioned into the business development world. This past September, she joined Ultra Maritime, having previously held a similar position at Babcock Canada Inc., another defence company. Ultra Maritime's Canadian office is in Dartmouth and she has been working virtually from Ottawa since joining. "It was a strange time to be shifting companies, during COVID, and while I have yet to meet my new colleagues in person, the leap of faith that I took, leaving a company, colleagues and a role I enjoyed, it has been the right move. You need to make tough decisions, consider leaving comfortable positions and take such leaps in your career," she says. As Director of Business Development, she leads the Marketing, Sales, and Bids and Proposals teams. Ultra's customers include the Royal Canadian Navy (RCN), the Royal Navy, the Royal Australian Navy, and many other navies around the globe.
"It is a demanding position. We are fortunate to have a lot of work, we operate internationally and have to maintain a very high tempo. It is incredibly interesting work and it's very rewarding to be providing vital underwater warfare/sonar equipment to the RCN and our other customer navies."
Prepare for opportunities
Joanna believes that every experience you go through helps your development as you move through life. She may not have pursued a career in the health professions but her BScK provided an excellent foundation for her.
"Chart a course but be prepared for opportunities and options to arise throughout both your education and your career. Always believe in yourself and when faced with challenges that may seem insurmountable, know that you are never alone, there are resources, including fellow students, friends, and colleagues, who you will be able to count on. And shoot for the stars! If a job opportunity seems like too much of a stretch, know that you have more skills than you know, you will pick things up as you go in the new position, and there will be people to help in your development. No matter what your internal voice may be telling you, people around you want you to succeed," she says.
Additional tips she has for students are:
"Find a mentor. There are so many of us out there who want to pass on our knowledge, experience, provide guidance, and to help build the skills of following generations. Mentors also gain much from mentor-mentee relationships and interactions so don't be afraid to ask!"
"Don't be afraid to change course and make mistakes. I wouldn't be where I am, happy with myself, and with my career, had I not gone down so many diverse roads. My broad experience has made me a strong potential employee and has resulted in being headhunted for my last 3 positions."
Dal Memories
Reflecting on her time at Dal, Joanna says, "there are so many memories but one that sticks out was the first Biomechanics class, where my classmates and I first met. We were to go on to be a strong group of five women, and on that first day, we were all very excited about the future. While I haven't seen any of them in many years, I do still think about them and what I remember most are the laughs that we had and the hope for the future. University was, as a whole, a great memory and a great start to my adult life."
As for the future, Joanna loves what she does and finds working in the defence industry to be both incredibly interesting and challenging. Ultra Maritime is a strong and growing international company and she feels has the potential to do well in her current and future roles. "I also have the potential to work overseas, which I would highly encourage for any graduate. Consider opportunities that are outside your region, your country, take chances, and do not let opportunities to grow to pass you by," she says.
Acknowledging that as a female she is still a minority amongst her business development colleagues she plans to continue mentoring at every available opportunity, to ensure that those who follow will be well-prepared to deal with immediate and future challenges. She added, "I think ultimately, I want to ease out of my current career path to move to a more creative and/or philanthropic role, but there are still things I want to accomplish before that time comes."