News
»
Go to news main
Physio alumna leads physician recruitment for Nova Scotia Health during COVID‑19 pandemic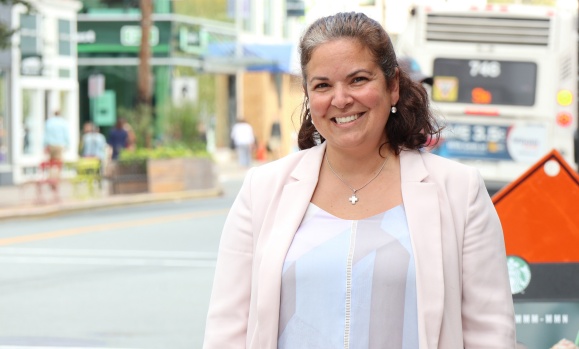 Katrina Philopoulos (BScPT 00) has been the Director Physician Recruitment at Nova Scotia Health for about a year and has had to adapt her work during the global pandemic. She says her background in physiotherapy prepared her for this challenge.
Since graduating with a physiotherapy degree in 2000 from Dalhousie, Katrina has worked in many different areas of practice. From private practice working in orthopaedics, to hospital based inpatient/outpatient/ICU work, Katrina moved to leadership roles in the hospitals occupational health department to help develop programs that impact the health of its employees. In each of these roles she would have to adapt her work to the demands of the situation.
Now, she oversees the recruitment of physicians to Nova Scotia and the same principles apply. She says under ordinary circumstances physician recruitment is very complex, as it involves a heavy schedule of travel, events, and logistics. Physician recruitment is so much about creating relationships that last long after an individual is hired.
"We are competing for a scarce resource in a globally competitive marketplace. We need to get the message across that Nova Scotia is a great place to live and a great place to practice Medicine, and we want that message to stand out against the many options physicians have to choose from."
Almost half of the physicians who start each year come from Dalhousie University. This requires a specific focus with residents and medical learners. The rest come from all over. Katrina says more than 20% of their recruitment efforts are around physicians who have trained at international medical schools. Through their system partnership with Nova Scotia Office of Immigration (NSOI), NSOI created an express entry pathway for physicians to help with the immigration process and length of time to establish Permanent Residency. To expand the number of physicians that can work here, NSH also worked with the Nova Scotia College of Physicians and Surgeons (NSCPS), Dalhousie Department of Family Medicine and the Department of Health and Wellness (DHW) to help them get a license to work here. Through this program, the Practice Ready Assessment Program, five to 10 new physicians will start working in the province each year.
'A lot of people think that physician recruitment is about finding a candidate and hiring them. There is so much more to it. We work with partners across the system to create the conditions that remove barriers and increase pathways to any physicians we can possibly hire. "
Innovation during unprecedented times
The COVID-19 pandemic created many changes to the way Katrina and her team recruit. She explains a large part of their work includes travel to conferences, campus tours and job fairs that were cancelled in March.
"Physicians who are interested to come see the province, see where they would work, where they'd live and meet potential colleagues and others in the communities haven't been able to do so. Our work has changed in the sense that we've had to be innovative and redirect our focus since we can't travel."
Katrina says her team had to come up with creative ways to keep engagement with physicians, such as launching a digital marketing campaign, hosting virtual site tours and using platforms such as WhatsApp and Facetime for interviews and regular connections.
Planning around new travel rules
Katrina says they were 13 physicians who were intended to start from mid-March to June but had delayed starts due to travel restrictions. Her team was able to work with immigration to receive border exemptions for international health care workers, but there was a lot to plan for when they arrived.
"It's quite the process. We have to think about how we receive them, what is the isolation plan, work with the community they'll be arriving in, find suitable accommodations and arrange for food and groceries drop offs, so they can complete their 14-day isolation."
Retired physicians returning to help
Katrina says like any type of preparedness, you hope for the best and plan for the worst. Given the potential for significant demand on the healthcare system and limited physician resources, NSH worked with their partners at Doctors Nova Scotia (DNS) and Nova Scotia College of Physicians and Surgeons (NSCPS) and created a process for recently retired physicians to reactivate their license to return to opportunities required by the health system.
She says there was a great response from retired physicians, with over 30 retired physicians whose licenses were reactivated as well as the creation of a reserve list in case they needed any extra help.
"It was overwhelming to see their support for the health of Nova Scotians."
Collaboration in challenging times
Katrina says working through these challenges brought people together.
"There's been more collaborative efforts than ever before, some breaking down of barriers across systems."
She says the innovations in how to manage health care options, such as virtual care, is a great thing to come out of this pandemic and something we hope to see more of in the future.
Physio background helped
Katrina says adapting and switching course is something people in health care are used to, and something her physiotherapy education helped prepare her for.
"Often in the School of Physiotherapy, we are brought problems that are complex. You have to learn to ask questions, think critically, engage others and adapt to the situation that works best"
She says other skills she learned that have helped her to this day are taking a holistic view of care, understanding you have to look at the whole person: you can't have physical health without psychological health.  
Effective communication is an imperative skill, she says, everything from your body language and demeanor to how you speak/listen with the patient, their family, your peers and how you work as a team.
"I'm a collaborative leader; in order to be successful, you have to be successful as a team. You can't do it alone. I learned that early on. When you do work together you can really get some incredible results."