News
»
Go to news main
Dance off that Anxiety: CVS Coordinator shares a 'Song of the Day' to help connect her Students
Posted by
Decklan Rolle
on September 22, 2020 in
Students
"Music...can have powerful affects on our positive outlook, physical well-being, and stress reduction. Let's get up and dance!" ~Dawn Pickering
At the start of the worldwide COVID-19 pandemic, university students, faculty, and staff alike had to adapt at an astonishing rate. With in-person teaching quickly adapting to move online, students had to completely change their academic routine. They had to continue their courses over the internet and be separated from their peers and professors. The lack of human interaction made the pandemic and the feeling of uncertainty harder to deal with. Dawn Pickering, Coordinator of the Dal Faculty of Health Clinical Vision Science (CVS) Program, recognized these difficulties. She knew there had to be a better way for staff to check-in with students instead of just sending an email asking how they were. So, she did the next best thing, she told them to "dance like no one is looking".  
"It was definitely completely random; which was really awesome to get in my inbox email," said Mairin Hogan student in the CVS Program. "I received the email on a very scary week, it was our first week off and I didn't really know what to do, the state of the program, or what next year would look like. Dawn's email telling us to dance was a ray of sunshine," she said.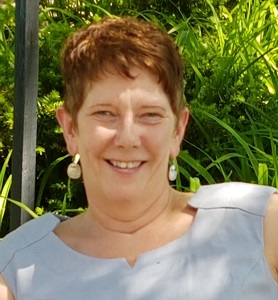 Dawn Pickering (Provided photo)
Pickering started this trend on March 23. The goal of it was to encourage students to get up and dance; to sing like no one was listening; to realize how powerful music is to help us relax. It was also a good way for her to touch base with her students. Pickering got the idea to try something new during the week of March 16. She drove to the University of Price Edward Island to pick up her son and subsequently saw two family members for what she knows was likely to be the last time in a while due to travel restrictions. That same day, Pickering's part-time fitness career and visits to the Dalplex were put on hold. She then had to work from home away from her team at the IWK Health Center. "The uncertainty of everything and the isolation were bringing me down," she said.
So, she decided to write in a journal and made two entries. A reason to be thankful and a song she loved, so she could listen to it and dance. It made Pickering feel better, so, she decided to share her "song of the day", with all of her students isolating at home, so that it could help them.
The song of the day has had great reviews from both the staff and students, just like Mairin Hogan. "It was a great way to start my day and it was a good way to connect with my teachers and peers" Hogan said.
Students and faculty could have fun doing review weeks, voting on different songs, and contributing their own song. Hard rock is one of the more popular selections for people to dance to. They tried country for a week, but that had rather mixed responses.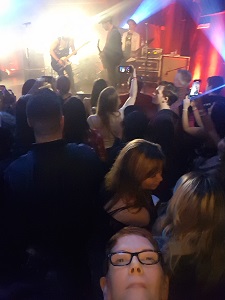 Pickering enjoys a Trews concert before the pandemic (Provided Photo)
"Dawn is just such a staple to the program and you just really feel like you bond with her", said Hogan. With the success of this trend, Pickering and her students hope that other schools and Faculties try something similar to connect with their students.
At the end of the day it's the little things that can have a huge impact on a person going through a rough time and sometime we all need to just shake off the stress.
- Decklan Rolle is a 2nd year student at the University of King's College, and Communications Intern with Dal Health until October.