Tips and tricks on working safely and comfortably from home
»
Go to news main
Making Your Home Office Work for You
Posted by
Terry Murray-Arnold
on April 9, 2020 in
News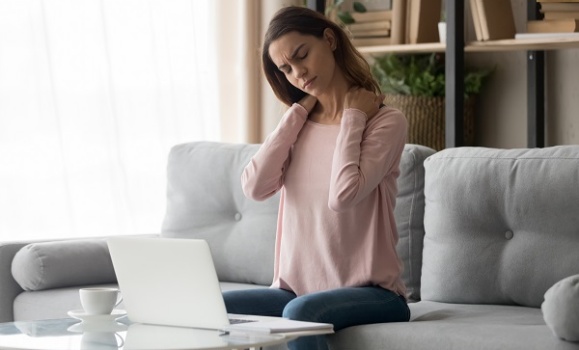 Tips and tricks for making your kitchen table office, or wherever you are working from, safe and comfortable.  
With government health leaders advising that non-essential workers stay home for the foreseeable future, many people have been thrust into working from their kitchen, living or even bedroom and making do with what they have on hand.
"When looking at any workspace, you want to optimize your comfort, safety and productivity," says Karen Joudrey, a self-described "friendly neighbourhood occupational therapist," instructor with Dal Health's School of Occupational Therapy, and board member of CAOT (Canadian Association of Occupational Therapists).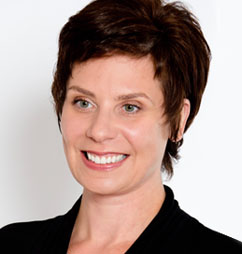 Karen Joudrey, OT Reg (NS)
Joudrey defines ergonomics as the "interaction between your body and the environment." She advises keeping some basic rules in mind when setting up your workspace to avoid ergonomic risk factors such as headaches, sore backs and sore hips.  
The Rule of 90
One of the occupational therapy principles Joudrey says to be aware of is what occupational therapists (OTs) call the Rule of 90. "You want to have your ankles, hips and knees and your elbows to be at 90 degrees — a right angle," says Joudrey.   
Start with how you are sitting. "If your chair is too low, get a cushion to sit on," says Joudrey. "Roll a towel and place behind your back in order to increase support. If you are a person of short stature, "use a footstool, sturdy shoebox or any flat surface to act as a platform to elevate your feet," she continues.
The goal is to allow your ankles to be at 90 degrees, so you are not tucking your feet under your chair, crossing your legs, or extending your legs and resting weight on your heels.
When working on a laptop, Joudrey recommends you make sure your screen is at eye level. Laptops are convenient because they are portable and compact, but their size means you are forced to look down at the smaller screen. "The top third of your screen should be at eye level when you are sitting straight and your hips, knees and elbows are at 90 degrees," Joudrey advises.
Joudrey also recommends an external keyboard and mouse as a very cost-effective option for working safe. This allows you to put your laptop on a raised surface, like a very basic and commercially available laptop stand or monitor riser and bring your mouse and keyboard down to be level with your forearms. In a pinch, a hardcover book may do but the user should ensure that the laptop is venting appropriately as laptops can get hot.
Keyboarders can fold a dishtowel or facecloth to avoid having wrists/palms resting on a table corner or other hard surface when typing. "Pressure on the carpal tunnel is a big ergonomic risk factor," says Joudrey.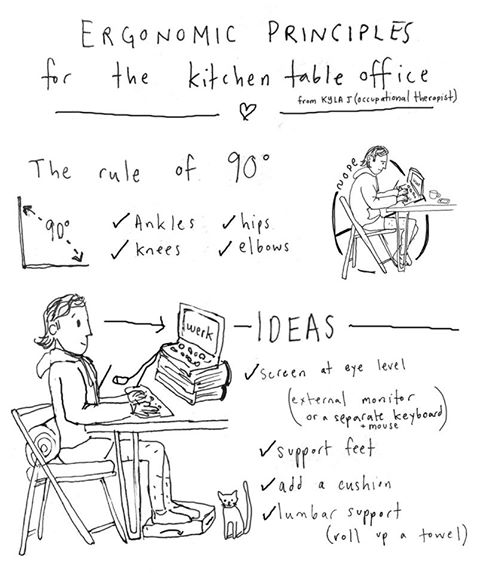 Ergonomic principles for the kitchen table office (CAOT/ Kyla J)
Don't forget lighting
Avoiding glare on your screen is important. Many people will put their monitor up against the window so they can look out at the same time as doing work. "If you have your computer in front of a bright window you are going to get glare or lighting contrast which can lead eyestrain and sore eyes," says Joudrey. She recommends only positioning your screen this way if you have a good window covering. "This also applies if you flip yourself around," cautions Joudrey. "You are getting a reflection of your window in your screen which also causes glare."
Take a break
Another OT principle is the rule of 20s. Every 20 minutes, get up for 20 seconds, walk for 20 paces away from where you are working and shift your gaze 20 feet away. If you are on the phone a lot, Joudrey recommends a headset. "Wearing a headset lifts up your head as you aren't cradling a handset, and it frees you up. You are able to get up and move around much easier than when you are tethered by a cord to a phone. I can't emphasise enough the importance of getting up and moving. Also, don't forget to stay hydrated as well," she says.
Work is healthy
While it may be stressful to try to work from home during this pandemic, working can be good for your mental health. "One of the basic tenents of occupational therapy is that it is healthy for us to be engaged in meaningful occupation," Joudrey says. "It is good for you to maintain your usual work activity and stay connected online to co-workers."   
Back Health
Keep that back healthy when working (or studying) from home! Dalhousie Physiotherapy Clinic physiotherapist, Joseph Ghosn shows some exercises for back health for anyone working/studying from home.