News
»
Go to news main
PhD in Health student becomes first to successfully defend their thesis
Posted by
Stephanie Brown
on February 12, 2020 in
News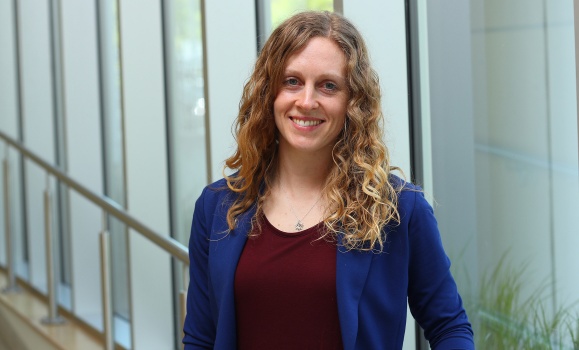 On Tuesday, December 17, 2019, Adria Quigley got to hear the word "Congratulations" after four years of hard work. She became the first person in the PhD in Health program to defend their thesis since the program began in 2015.
Being the first in the program to finish wasn't Dr. Quigley's goal – she just knew she was the type of person to put her head down and get it done.
During her PhD in Health, Dr. Quigley studied the feasibility and impact of a yoga intervention on cognitive and physical performance among people living with HIV.
After graduating from the University of Saskatchewan with a degree in Kinesiology, then graduating from the University of Toronto with a Masters of Physical Therapy, Dr. Quigley moved back to Saskatoon to work in an inner-city hospital. She saw a wide variety of patients, but she says what really stuck with her was working with teenagers dying of AIDS.
'Shocked by what I was seeing'
Dr. Quigley says in Saskatchewan it is primarily Indigenous people who are infected with HIV in the province, and there are lots of issues around IV drug use and racism.
"I was completely shocked by what I was seeing. In 2011, that's not what we should see. I was treating an 18-year-old girl, she had a tracheostomy so was breathing through a tube in her neck – it just profoundly changed my world view and my career path."
Journey to Dal
Dr. Quigley had some career changes, working in long term care with neurological patients such as brain injury, stroke and Parkinson's disease, then moving to New Zealand to work with rugby club athletes.
She says she started thinking more about people living with HIV, and remembered a conference in which she heard a researcher from Memorial University, Dr. Michelle Ploughman, talk about how exercise could be neuroprotective – meaning it could stop the progression of multiple sclerosis.
"That really stuck with me because I kept thinking what if that is also the case for HIV? What if we could actually stop progression of cognitive impairment in this population as well?"
Dr. Quigley decided she wanted to look at cognitive function with people living with HIV and yoga because she had recently finished her yoga teacher training.
She had a hard time finding a supervisor because it either wasn't their area of expertise, or they thought it would be difficult to recruit. She found Dr. Marilyn MacKay-Lyons with Dal Health's School of Physiotherapy. Dr. Quigley says Dr. MacKay-Lyons doesn't research HIV, but she runs exercise trials for people with strokes and many of the same principals apply.
One of the firsts
When Dr. Quigley started in the PhD in Health program at Dalhousie in 2016, it was newly formed. There were perks about being in such a new program, Dr. Quigley explained.
"It was a challenge, but there was flexibility. The first year we had seminars every Thursday with all of the students together. We were a small group, but it was so nice to talk to the other students about what they're going through to help each other out."
Dr. Quigley's research was with a vulnerable population, which she says made recruitment challenging. She says she put in the work by shadowing doctors at HIV clinics and continuing to show up to HIV organizations, proving herself to be trustworthy and they helped her recruit.
Yoga creating connections
There were 22 local participants, half as the control group and half doing the yoga interventions. They did 12 weeks of yoga and were tested for cognitive abilities, self-reported cognition (how they feel about their memory) physical performance (balance, walking speeds, etc.) and overall quality of life (sleep, pain, mental health, etc.) at baseline and 12 weeks.
Dr. Quigley made sure it was an inclusive space, that participants were respectful and respected each other's confidentiality.
"I had two participants who became really good friends and spent time together outside the program. That was probably the most meaningful thing that happened."
In terms of findings, Dr. Quigley says she didn't expect to see huge results in the study, especially not with a small group of participants, but they really wanted to see if it was feasible and beneficial for participants.
She says there were improvements in self-reported cognition – such as better memory and being able to concentrate for longer amounts of time. Participants also reported experiencing reduced stress.
After the study, Dr. Quigley invited the control group to join the yoga classes so they could benefit from it too.
'Congratulations'
Dr. Quigley says hearing she passed her defence was a huge relief. She says although it was stressful and a lot of hard work to defend her thesis, it was really enjoyable to talk to people about what she learned.
"I can't believe that it's actually done. It's a big moment."
What's next?
Dr. Quigley is hoping to start a post doctoral fellowship in the next six months, and she will continue to work in a private clinic with neurological clients. She hopes to continue her HIV research.
Fun Fact! She'll be busy this summer representing Canada for the World Masters Ultimate Championships in Australia as a member of the Mixed Masters team. Go Team Canada!