News
»
Go to news main
'Don't forget about us': PhD in Health student researching volunteer firefighters' mental health
Posted by
Stephanie Brown
on October 30, 2019 in
News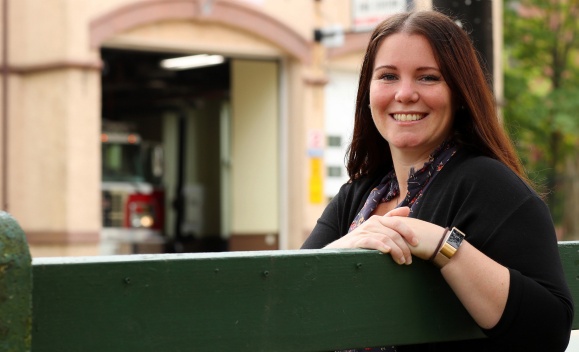 Robin Campbell was a volunteer firefighter for 10 years in the Annapolis Valley, Nova Scotia, and is now hoping her research will lead to policy changes that will improve mental health training, awareness and support for volunteer firefighters across the province.
Robin is a third year PhD in Health student, supervised by Dr. Crystal Dieleman (Occupational Therapy) and Dr. Jeff Karabanow (Social Work). Previously, she completed a Bachelor and Masters of Recreation Management and Community Development at Acadia University, and a Bachelor of Social Work from the University of Victoria.
Getting started
In her third year of her Bachelors program at Acadia University, Robin wasn't sure what she wanted to do after she graduated, and after considering becoming a paramedic, a family friend encouraged her to think about volunteer firefighting so she could do ride-alongs with paramedics and see how she liked it.
She got hooked and continued on until she came to Halifax to do her PhD, almost 10 years later.
During her social work placement at Halifax Police Victim Services Unit, she realized she was worrying just as much about the police officers responding to incidents as the victims she was assisting. She decided she wanted to use her experience and further her education to champion the mental health and wellbeing of volunteer firefighters.
'People don't really talk about it'
Robin says in her experience, mental health isn't something volunteer firefighters often talk about.
The exception to that are visits by the Critical Incident Stress Management team after really bad incidents, but Robin explains that doesn't cover the range of stress that impact the firefighters.
"Sometimes people think it has to be the worst of the worst, and there are some pretty bad ones – but sometimes if it's a call with animals, that can really affect people because of their own animals, or especially if there are children, things like that affect you because you can relate it to your own life."
There's a lot of stigma about it. Even though I think people think it's changing, as a society we are becoming more aware but in this world it's still about 'we have a job to do, you have to suck it up, we need you.' - Robin Campbell
Coping with the stress
In terms of mental health issues for volunteer firefighters, Robin says post-traumatic stress disorder (PTSD) is the most worrisome, but oftentimes people assume they have it without going to get help.
"If we got people help earlier on – it's no different than anyone in society – we could probably reduce the chances of having a chronic disorder, Robin says. "A lot of times when people think they have PTSD, it could actually be a different mental health issue such as depression or anxiety. It may also be critical incident stress which should only last four to six weeks but feels like it's going to last forever."
She recalls being in a fire department and hearing someone say they couldn't rely on one of their volunteers anymore because they had PTSD.
"It's become a dirty word and is scoffed at. Some people may not even have PTSD, but they just assume."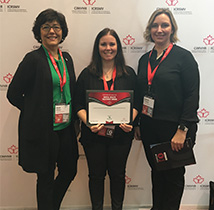 Robin Campbell recently won the Homewood Mental Health Treatment Award for best presentation focusing on improving or innovating clinical mental health practice from the Canadian Institute for Military and Veteran Health Research Forum. (Submitted photo)
The firefighter culture
Robin explains that the culture aspect of fire services has been well researched, and it has been found to be entrenched in hyper-masculine values.
"Being brave, having courage and aggression – all of those values don't necessarily go well when you're struggling with a mental health issue and need something more nurturing."
Robin says it is even more difficult for female firefighters, since they are already trying to prove themselves and don't want to have any perceived weaknesses.
"You want to be seen as just as good as the guys, and that you can handle it."
Lack of research
Robin has found that research is still in its infancy for all first responders. She references the University of Regina's Canadian Institute for Public Safety Research as a great start – but does see a lack of research for volunteer firefighters across the country.
"Things are developed for employment, but 83% of firefighters in Canada are volunteers and in Nova Scotia it's closer to 90%, so things that are built for people who do this as their job is not the same as the people who do it as volunteers."
Sound the Siren
That's where Robin's thesis, Sound the Siren, comes in.
Starting in January 2020, Robin will work with three rural fire departments in Nova Scotia, with five or six volunteer firefighters participating from each department. She wants to find out how their occupational environment affects their mental health. Usually occupation makes you think of work, but Robin says that's one of the unique things about volunteer firefighters.
"It's an interconnected environment. The community you live in, plus where you work, the fire department, your family and your home. You don't just go to the fire department for a 12-hour shift."
Instead of just interviewing participants, she will be using photo-elicitation – having them take images of what it's like to be a firefighter and their environments.
"I think it will be really hard to get people to open up because of the stigma so that's why I'm doing the photos. They will be telling a story, which a lot of firefighters like to do already."
She will also have focus groups with the senior leaderships in the fire departments to learn what barriers they face surrounding mental health support and how that affects what they can do for their teams.
Robin has a goal to start conversations and put policies in place for this under-represented group.
"There are a lot of myths that we aren't trained the same as paid firefighters or that we don't respond to the same calls, but volunteer firefighters do the same things. I'm hoping this will shed a light on what we need, and say don't forget about us."
You can follow along with Robin's PhD journey on Twitter and Facebook.