News
»
Go to news main
Dean's Message: 5 Questions for Cheryl Kozey
Posted by
Dawn Morrison
on July 16, 2019 in
News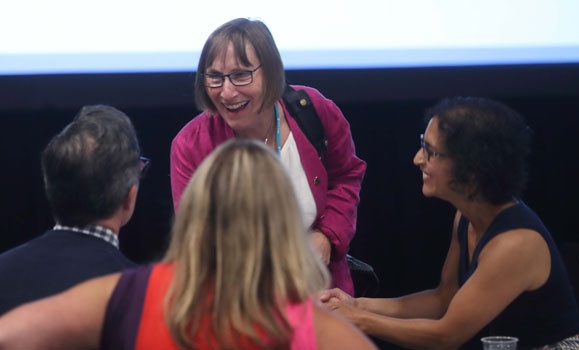 As Dr. Cheryl Kozey's 13-month term as Acting Dean of the Faculty of Health comes to a close, we asked her to reflect on her time in the role, and what's next for her and for the Faculty:
1) Looking back over the past year, what were some of the highlights for you?
One of the highlights has certainly been how supportive all the Dean's Office staff, Dean's Executive and Full Faculty have been. Even within my first few weeks in the role, many people reached out to me indicating that they were available to help in any way and I truly appreciated that welcome.
Another high point was seeing our student accomplishments, both graduate and undergraduate. Our students are winning major awards, getting to travel and engage in interprofessional learning. Another high point was our research success with a growing number of our researchers being recognized for their tremendous impact in diverse areas, resulting in the recruitment of outstanding students in both our PhD in Health and PhD in Nursing programs.
Being part of the NS-IHRIS (the pan-provincial Nova Scotia Integrated Health Research and Innovation Strategy) leadership team was also a definite highlight. IHRIS has the potential to significantly impact the health research landscape, and the health of Nova Scotians. Being able to help shape how this initiative moves forward has been extremely rewarding.
I'm also very proud of the Faculty in terms of where we are around leadership in inclusion and equity facilitated by the work of our Assistant Dean Inclusion and Equity and Faculty-level Inclusion and Equity Committee and through numerous individual initiatives. One example is the success of our mini-course for Dentistry, Medicine and Health students in Indigenous Health that illustrates our expertise and experience providing a foundation for this course to be rolled out for all students.
2) What insights have you gained about the Faculty of Health during your time as Acting Dean that you might not have had before?
I have been at Dalhousie for 37 years, but my time as Acting Dean has as one might expect given me a whole new perspective on the Faculty. For instance, while I recognized before that there was a space issue in the Faculty, I now understand the negative impact that this is having on our faculty, staff, and students across the Faculty on a day to day basis that is influencing our ability to achieve our full potential.   Given our growth in enrollment and research successes it is evident that this issue requires urgent attention with a plan to meet both current and future needs that enhance learning, research and innovation as well as service to our communities and partners.
Also, we have a very dedicated faculty, staff, and Deans Executive and working closely with them in a different way from what I would have previously, really illustrated just how committed they are to advancing the mission of the Faculty.
3) What do you think are some of our greatest strengths as a Faculty?
Our people are the Faculty's biggest strength, and we have very dedicated faculty and staff who work hard to ensure our Faculty achieves its goal of Health Transformation. Coupled with that, we are attracting and retaining very high-quality students and engaged alumni who go beyond expectations, and who are having an impact in a wide variety of disciplines and on their communities.  The diversity of our programs is another key asset where the mix of professional, research and discipline-specific programs really adds to the culture of the Faculty and collectively provides significant potential for impact.  Finally, we have developed strong relationships with Faculty of Medicine and Dentistry and have a number of shared initiatives, which is important as we move to the future with advancing interprofessional education, interdisciplinary research initiatives and collaborative health care models.  
4) What's next for you?
I'm really looking forward to having a holiday and then some focused time on my research and moving it forward into more tangible impacts on health. And to more frequent visits with my grandchildren Ben (7) and Andy (4).
5) What is your outgoing message to the Faculty of Health?
My message is to focus on the positives, as there are a lot of positives that we can celebrate. There will always be bumps in the road, but we must keep our eyes on the goals — and we know what those are from our Strategic Plan.  I truly believe we have a window of opportunity to make a real change now, within the health landscape, but we need to embrace the challenge together by being supportive of our colleagues and students.
About Dr. Cheryl Kozey
Dr. Kozey is Professor in the School of Physiotherapy, with a cross appointment in the School of Biomedical Engineering and is an Affiliated Scientist in the Department of Surgery at the Nova Scotia Health Authority and an Associate Scientist with the Maritime SPOR support unit.  In addition to Acting Dean, she has held roles as the Associate Dean Research (Faculty of Health), Interim Director of the School of Biomedical Engineering and the Director of the BioMedic NSERC CREATE training program. She is a member of the Nova Scotia Health Research Foundation Decade Club and the recipient of the Faculty of Graduate Studies Distinguished Service Award. She is co-lead of the Innovation in Musculoskeletal Health and Physical Activity collaborative multidisciplinary team and the Co-Director of the Dynamics of Human Motion Research laboratory.  As a national and international leader in clinical biomechanics and neuromuscular control, her research is focused on keeping people with bone and joint conditions mobile and physically active so they can maintain health throughout their lifespan.
We wish her all the best on her next chapter!