News
»
Go to news main
BScN Grads lead their class in planting hope
Posted by
Terry Murray-Arnold
on May 31, 2019 in
Students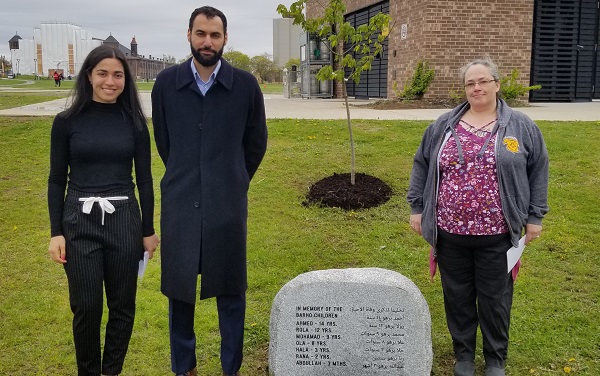 (BScN Class of 2019 Graduates Sally Sukkar (L), Nichole Gloade (R) and Ahmad Hussein, Chairman of Ummah Mosque and Community Centre)
When Dal Health School of Nursing graduates Nichole Gloade and Sally Sukkar learned of the tragic loss the Barho family suffered earlier this year they shared the tremendous sadness felt by Halifax and the entire nation.
The two student nurses wanted to do something to show support to the Barho family on behalf of their graduating class
"The Barho family chose Halifax as their new home and as they are a loved part of the community, we wanted to show our support to them," said Nichole.
After a lot of thought and consulting with School of Nursing faculty, Nichole and Sally proposed planting a tree in memory of the Barho children. The students wanted a permanent memorial to symbolize having the Barho as members of the HRM, and Canadian community.
"We picked the maple tree because the family had just become Canadian citizens," said Nichole. 
The two reached out the family. When asked for a preferred place for the tree, they chose the Emera Oval as the Barho children loved to visit it.
 "The memories they created with their family will be held close to their loved ones' hearts; giving them a place to visit and to remind them that they are all loved and supported by this community," said Sally.
On May 27 the tree was planted near the Emera Oval with a small ceremony attended by members of the Barho family's mosque, Sally and Nichole's class and faculty from Dal Health.
"One of the things I felt as a member of the Barho family's community was the instant feeling of inclusion and acceptance and that people dropped their differences," said Ahmad Hussein, Chairman of Ummah Mosque and Community Centre. "I think the Muslim community as a whole felt a sense of peace and security at the acts of generosity showed by everyone."
The students collaborated with the family, designed the memorial and arranged for donations. The granite marker came from Heritage Memorials and the red maple tree was donated by Baldwin Nursery. Sally and Nichole also coordinated with the City of Halifax to have the tree planted.
"The leadership that the School of Nursing showed in supporting their students to accomplish this endeavour was something very thoughtful and showed compassion beyond the borders of education to help community members in need," said Mr. Hussein.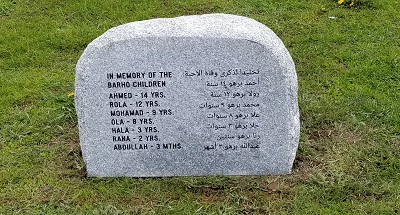 "The School of Nursing Graduating Class of 2019 hopes that everyone who visits the Oval embraces the beauty of this maple tree as it grows over the years and serves as a reminder to be kind to all," said Sally.