News
»
Go to news main
From the Dal campus to a rewarding career
Posted by
Dawn Morrison
on May 27, 2019 in
Students
Faculty of Health Grad Profile: Katie Russell (School of Health Sciences)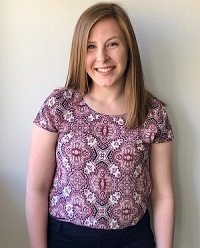 Katie Russell first discovered respiratory therapy in high school after hearing about her soccer coach's experience with the respiratory therapists during his son's hospitalization. Unfortunately, the coach's young son went into respiratory failure and was hospitalized at the IWK. When conveying the story, her coach talked about the impact respiratory therapists had on his son's care, which led Katie to research the profession and ultimately decide it was something she wanted to pursue.
"I always knew I wanted to go into health care, but I didn't know anything about respiratory therapy at that time. My coach inspired me to go into the program and work with pediatric patients. I'm happy to say, my former coach's son is doing well today," she adds.
Katie is graduating with a Bachelor of Health Science, focused on Respiratory Therapy. The first two years of the program focused on classroom learning, followed by experience within a clinical environment. Alongside clinical experiences, her third year provided her the opportunity to volunteer with groups such as the Lung Association of Nova Scotia, an experience she calls 'incredibly rewarding.' The School of Health Sciences is partnering with the Lung Association and Lions Clubs to help refurbish CPAP and BiPap machines to be distributed to patients who would not otherwise be able to afford this life-changing equipment. Katie's class was the first one to be involved in this important community initiative.
The combination of classroom and experiential learning has equipped Katie well for a fulfilling career in her chosen field. "The past four years have been a lot of hard work, but to walk into this program as a high school student and walk out of it with a rewarding career has been a fantastic experience," she says. "I've found something to do with my life that I absolutely love."
She says the program in the School of Health Sciences at Dal is special, encouraging a tight-knit community among faculty and fellow students. "Classes are small, so you become a family," she says. "Having that closeness with everyone is great, and something that I'll miss."
In terms of next steps, Katie plans on continuing her work at the IWK, where she is an employee in the Respiratory Therapy department, working throughout the hospital, including the Pediatric and Neonatal ICUs. In March, she began a second job at the IWK, working with outpatients in the Pediatric Cardiology and Chest Clinics. When she's not working or studying, she loves to be outdoors and counts hiking as one of her favourite pastimes — particularly along the trails in her hometown of Kentville, NS.
Dal Health Convocations take place on Thursday, May 30 2019. Find the Convocation schedule here.