News
»
Go to news main
Dal Health (Nursing) PhD Candidate Martha Paynter named as 2019 Pierre Elliott Trudeau Foundation Scholar
Posted by
Terry Murray-Arnold
on May 24, 2019 in
News
Dal Health (Nursing) PhD Candidate Martha Paynter was announced yesterday as a 2019 Pierre Elliott Trudeau Foundation Scholar.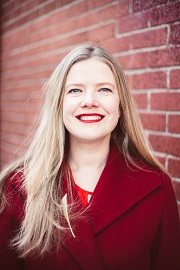 Martha is among a very select group of "audacious, original, and forward-thinking" scholars picked from a pool of hundreds of candidates from universities in Canada and abroad.
Her doctoral research explores the experiences that incarcerated women and pregnant people have in relation to pregnancy while they are in prison. Martha has a deeply compassionate approach, and a complete commitment to equity seeking in her research and activism. "I think we need to be overtly committed to improving health equity whenever we are doing research," she said.
The Pierre Elliott Trudeau Foundation Scholarship Program aims to "help shape researchers into engaged leaders who are conscious of the impact of their research, connected to the realities of the communities in which they work...."
In addition to being a Registered Nurse and PhD Candidate, Martha is founder and chair of the not-for-profit Women's Wellness Within (WWW). The group provides doula and support services, education and advocacy to incarcerated individuals before, during and after childbirth.
 "What I am trying to do with my work with WWW, in abortion access and breastfeeding support, is to advance reproductive justice and the health of people in terms of reproduction and planning and raising families in safe communities where they are supported," she said.
Twenty Scholars were named as recipients of the Pierre Elliott Trudeau Foundation's  doctoral scholarship in the social sciences and humanities. The program will last for three years and will also provide generous support for Scholars' doctoral work in the form of a stipend and a research and travel allowance.
"I have been working in this area in Nova Scotia since 2012. The Trudeau platform elevates this to the federal level. I need to go across the country to listen to women's voices. The travel grant is extraordinary in helping me do this," Martha said.
Trudeau Foundation Scholars become members of a community of other scholars, mentors, and fellows whom are "leaders and change-makers "in their respective disciplines and sectors. Scholars also receive leadership training from mentors and fellows.
"This is a valuable opportunity to make connections with people who are doing similar or complementary work across the country both within the Trudeau Scholar Foundation network and outside of it," she said .
Martha's PhD research is supervised by Associate Professor, School of Nursing and Associate Dean – Academic (Acting), Faculty of Health Dr. Erna Snelgrove-Clark and Professor and Interim Director, School of Nursing, Assistant Dean Research, Faculty of Health Dr. Ruth Martin-Misener
"I feel very supported by the School of Nursing and Dal Health," said Martha. "The school recognizes that we need nursing leadership, in policy and setting the direction for how health care is delivered in this country.  I want to contribute to those decisions and that action and I see our school supporting my leadership," she said.
Dr. Cheryl Kozey, the Dean (Acting) of the Faculty of Health notes that this prestigious award truly exemplifies the impact of Martha's research. "Martha Paynter is a star and we are all celebrating this news," she said.