News
»
Go to news main
Visiting scholar notes coproduction of research is key to implantation of evidence informed health practice and policy
Posted by
Dawn Morrison
on June 19, 2018 in
News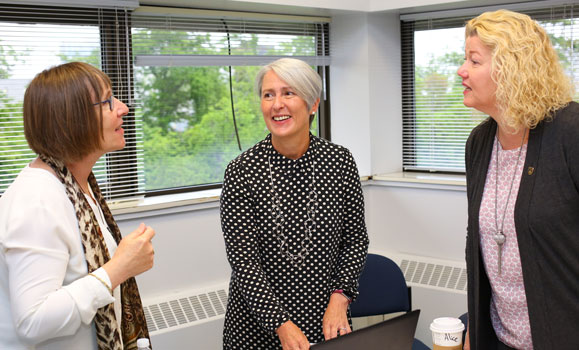 Professor Jo Cooke received a warm welcome from the Faculty of Health when she visited Dalhousie for a series of presentations on June 18, 2018. Professor Cooke, from Sheffield England, is the Deputy Director and Capacity Lead, NIHR CLAHRC Yorkshire and Humber, STH NHS Foundation Trust.
From 2008 to 2018, the NIHR (National Institute for Health Research) funded nine Collaborations for Leadership in Applied Health Research and Care (CLAHRCs) in England. Professor Cooke embarked on her study tour of Canada funded by NHS England, and learn more about how Canadian allied health researchers conduct research, and translate their findings into practice and policy. One of her roles is enhancing capacity in the health care delivery system to coproduce and use research.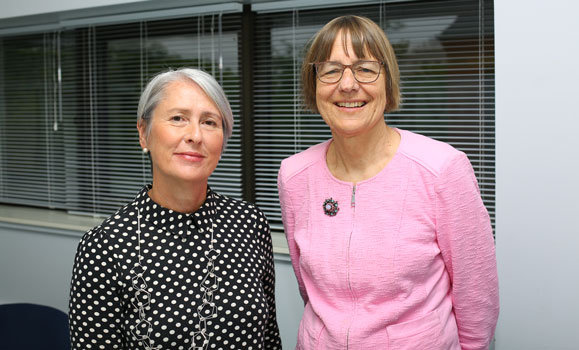 Professor Cooke delivered two presentations attended by key stakeholders, researchers, students and staff from Dalhousie and beyond. Both presentations were highly relevant to the research priorities of the Faculty of Health as well as the larger university and provincial research priorities:
Session One: Learning from the CLAHRCs model in England
This presentation focused on the principles of the CLAHRCs, including engaging partners, coproducing research, addressing inequalities and building research capacity in the workforce.
Session Two: Planning Research Impact Where It Matters: The Effect of Research Collaborations on Health, Wealth, Science and Capacity Building
This session focused on research impact, with examples from the Yorkshire Humber CLAHRC and the University of Sheffield, and the Research Assessment Exercise in the wider national CLAHRC community.
She noted that the key priorities for research for the Yorkshire Humber CLAHRC are:
Public health and inequalities
Primary care-based management of frailty in older people
Avoiding attendance and admissions in LTC
Mental health co-morbidities
Healthy children, healthy families
Many of these are similar to those in Nova Scotia. She also articulated the key values and principles with which the many stakeholders involved in the research developed together:
Engagement of stakeholders
Coproduction of research
Research capacity development
Paying attention to inequalities
Further collaborations between the CLARHC and Dalhousie University are being explored to share lessons learned and explore the development of collaborative research projects.
Learn more: