News
»
Go to news main
Meet Kathy MacFarlane: Dal Health's new Alumni and Donor Relations Officer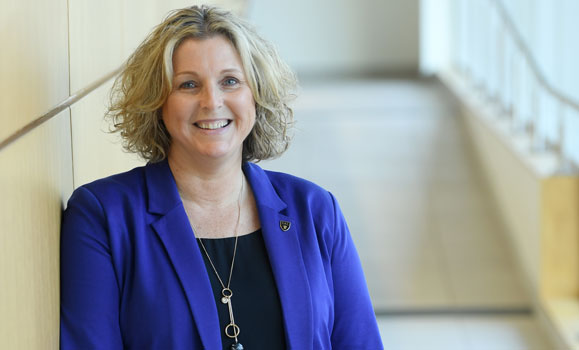 Kathy MacFarlane (Danny Abriel photo)
Kathy MacFarlane joined the Faculty of Health team as the new full-time Alumni and Donor Relations Officer (ADRO) last September.  Kathy works out of the Dean's Office in collaboration with our schools, college and centers on developing and fostering a lifelong connection with our over 21,700 alumni.
Kathy brings valuable experience to this new position having worked in alumni relations at both UNB and Saint Mary's University. With a strong background in the non-profit sport sector and in operations, she has had to develop many programs and initiatives centered around building strong relationships. This experience has given Kathy a deep understanding of the importance of relationship-building for alumni engagement.
Staying connected

"We want to create an environment that encourages alumni to stay connected to their alma mater, and to be a part of a diverse, vibrant community with ties to Dalhousie University," says Dr. Brenda Merritt, Dean of the Faculty of Health. "Their involvement is vital to the continued growth of our Faculty and it is essential that we have a staff member dedicated to this focus."
While the first few months were spent meeting with unit directors and discussing their programs, Kathy quickly saw the need to dispel one myth. "Everyone immediately thinks I am going to be asking alumni for money!  It's true, the University does hope that alumni who are in a position to offer financial support will, however, there are other ways for alumni to show their support, like giving their time and talent by volunteering or mentoring."
Alumni display their connection to Dal over a lifetime, and in many different ways. It can be as simple as telling a neighbour or colleague what a great experience they had at Dal, attending a local alumni event, joining a chapter, supporting a current campaign, being a preceptor, hiring a Dal grad, supporting the Dal Tigers, or joining us for 200th anniversary celebrations.
Strength in numbers
"Preceptors play an important role in the success of our programs and its students. They are the best examples of loyalty and engagement and we hope they will inspire students to follow in their footsteps as they develop their careers," says Kathy.
Although just two groups mentioned above, there are many more: donors, friends, units, faculty, and staff who are all paramount in the Faculty's continued growth.
"There is strength in numbers and a community is only as strong as the people who support it," says Kathy. She urges alumni to consider (maybe for the first time) attending an event in their area, especially during our 200th anniversary events. It is an opportunity for Dal to say thank you to the generations of alumni, faculty, staff, students, and community partners who have supported, inspired and challenged us.
Get in touch
Contact Kathy with any questions or ideas on how you can become involved with Dal Health.
kathy.macfarlane@dal.ca
902.494.4219