News
»
Go to news main
Unfiltered discussion: How technology enables classroom candor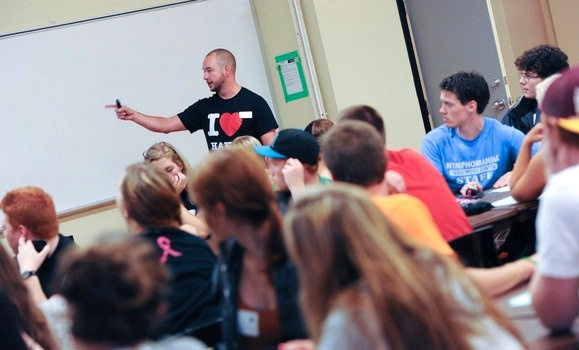 Matt Numer's "Human Sexuality" class is popular — so popular, in fact, that it grew from a class size of about 100 to around 500 students over the past decade.

Engaging the growing class with the material — and in frank discussions — presented a unique challenge for Dr. Numer, especially given the sensitive subject matter.


"Trying to engage 500 students in a class is a very different ballgame than 100," says Dr. Numer, a Healthy Populations Institute associate research scholar and School of Health and Human Performance faculty member. "I wanted to make sure that I kept the engagement level up in the classroom even as the class size grew."

The course, taught within the School of Health and Human Performance, covers the biological, cultural, ethical, historical, psychological, religious and semantic aspects of sex. Students may understandably feel uncomfortable discussing some of the subject matter publicly. Yet the course was designed for conversation — in fact, class participation and online evaluation make up 30 per cent of the final grade.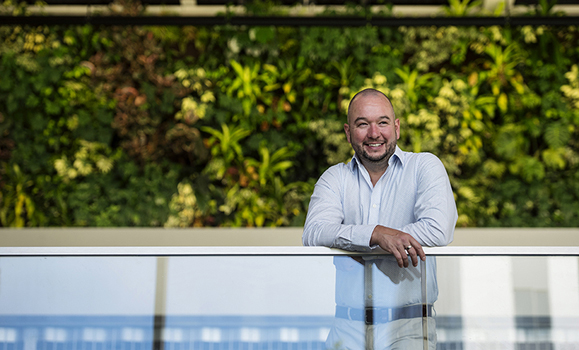 (Darren Calabrese photo)
Dr. Numer found a solution for creating the anonymity needed for authentic feedback from his students in this high-demand course. He was an early adopter of the Top Hat classroom engagement app, which students download and use on their smartphones. It allows them to contribute fully to classroom discussion without the need to speak out in front of a large group.

Watch: Dalhousie professors Matt Numer (Faculty of Health) and Jonathan Shapiro (Faculty of Law) discuss engaging students in the classroom through technology
Sustaining engagement

Dr. Numer used the technology initially for polling student attitudes and opinions on a variety of topics. He added a discussion feature and weekly forum questions. He then realized the traditional paper textbook he was trying to use in class was not an ideal fit, so he authored his own online textbook.

Classroom learning and input is now seamlessly integrated with the course material, and fully interactive.

"The online textbook is structured like a Facebook feed. In it, I can introduce a topic, play a YouTube video, provide multiple-choice questions, and add classroom discussions directly to the chapters. Students get points as they work their way through," he says, calling this aspect of the course "neatly-disguised homework."

Good discussion around taboo topics

Student participation has skyrocketed since Dr. Numer began using the app.

Fourth-year Health Promotion major Ryan Thompson says students like the technology quite a bit. He took the Human Sexuality course in the spring, and later became a teaching assistant. He says he appreciates the benefits of the technology from both perspectives.

"It's a really effective tool," says Thompson. "I think as students, we sometimes filter our discussions around certain topics, especially with so many in this class. The technology facilitates good discussion around taboo topics and enhances the educational experience, especially with new students. A lot of first years take the course, this approach can generate more authentic answers and engagement from them."

Dr. Numer says student evaluations showed that the students ranked his course extremely high, but he wanted to see for himself whether the Top Hat app had quantifiably improved engagement.

Peer-reviewed study

Dr. Numer and former teaching assistant Rebecca Spencer co-authored an article in the peer-reviewed International Journal of Technologies in Learning based on their study of whether the student experience changed by using their own devices in class.

Using survey data collected across three semesters from 1,100 students, they found the technology succeeded in promoting undergraduate engagement by making students more comfortable with the course material.

Dr. Numer says he wants to continue research in this area. "I want to use the information I gather to support research around student attitudes and opinions about sexuality and continue to evaluate the effectiveness of the online platform," he says.

Find out more: Matt Numer receives Top Educator Award from Top Hat

With files from the Top Hat Blog.