News
»
Go to news main
Lions Clubs make significant donation to Dal's Hearing Aid Assistance Program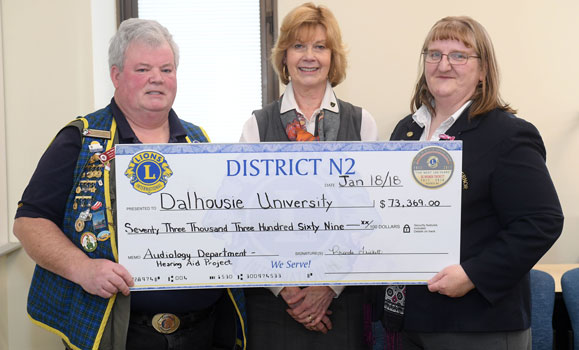 Members of the Lions Clubs of Nova Scotia were on the Dalhousie campus on January 18 to present funds they raised for the Dalhousie Hearing Aid Assistance Program (DHAAP), offered by the School of Human Communication Disorders. DHAAP provides refurbished hearing aids to low-income seniors who would otherwise not be able to afford them.
The Lions Clubs, led by David Hunter, raised $73,369 for the program. The funds will be used to provide audiologic equipment for the DHAAP clinic space.
On hand for the event were members of the Lions Clubs from across Nova Scotia including Mr. Hunter and Lions District Governor Rhonda Trickett, Dalhousie's Dean of the Faculty of Health Brenda Merritt, Director of the School of Human Communication Disorders Joy Armson, Associate Professor Steven Aiken and the Honourable Kevin Murphy, Eastern Shore MLA and Speaker of the House Of Assembly.
Building strong partnerships

"You can feel the gratitude in the room today," said Dr. Merritt. "Here in the Dalhousie Faculty of Health, we are fortunate to have strong and positive partnerships with community groups like the Lions. We thank them for their support and efforts in making DHAAP-Seniors such a success."
Dr. Armson noted that the funds will be used to purchase much-needed equipment to diagnose hearing loss, measure for hearing aid fittings and remove earwax when needed. "Seniors used to have to visit their family doctor to access some of these services because we didn't have the tools. They will now be able to get assessed and fitted for hearing aids all at Dalhousie's School of Human Communication Disorders," she said. "Thanks to the Lions Clubs of Nova Scotia and Lions Clubs International for their tireless work on behalf of the DHAAP program."
From learning to practice
In addition to providing hearing devices for seniors in need, the program gives students the opportunity to work directly with audiologists across the province and participate in all aspects of the program — from hearing assessments to device fittings, follow-ups and more.
Second-year audiology student Vincent Chow is a student volunteer with the DHAAP. He said the program provides a great opportunity for students to practice their clinical skills. "DHAAP really allows us to put classroom learning into practice, refine our skills and practice our techniques."
"Throughout all three years of my program, I've been part of these appointments and worked with seniors," said audiology student Chelsey Enman. "It's added such a valuable component to my education to be able to have this contact with patients, and to build these relationships."
The Dalhousie Hearing Aid Assistance Program (DHAAP) was established in 2011 by Dr. Rachel Caissie at the School of Human Communication Disorders in partnership with the Nova Scotia Hearing and Speech Centres and the Society for Deaf and Hard of Hearing Nova Scotians.
Those who wish to donate hearing aids that they no longer use may do so at the School of Human Communication Disorders (Tupper Medical Building, 5850 College St., Room 2C01) or at any Lions Clubs.
Questions about the DHAAP?

Rachel Caissie, Associate Professor, School of Human Communication Disorders
rcaissie@dal.ca
902 494 5159
Visit the website: Dalhousie Hearing Aid Assistance Program