News
»
Go to news main
Community Veterinary Outreach Clinic: Improving the health of socially marginalized people and their pets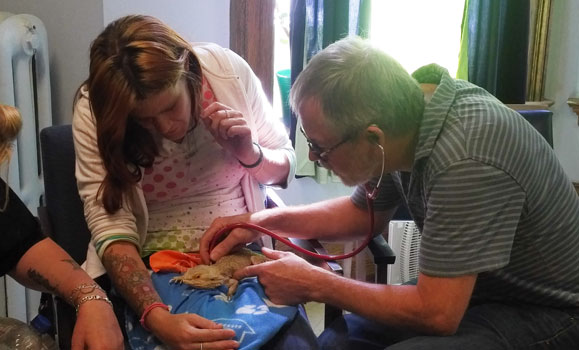 Community Veterinary Outreach (CVO) Halifax held a pilot Clinic on August 26, 2017, where preventative health exams, vaccinations, parasite treatments, and micro chipping were provided to 26 pets free of charge to 17 individuals and families who are homeless, at a high-risk of homelessness, or are vulnerably/transitionally housed.  The mobile clinic was hosted by Veith House in North End Halifax and staffed by a volunteer inter-professional, inter- disciplinary team of veterinarians, social workers, vet techs, and social work and nursing students in accordance with the principles of One Health.
CVO is a registered Canadian charity that aims to improve the health of socially marginalized people and their pets by providing pro bono veterinary services as well as access to human health and welfare providers on hand to provide a range of supports and services to pet owners.
At the heart of One Health paradigm is the idea that the health and welfare of pet owners can be directly impacted by the health and welfare of their pets.  By focusing on the health of companion animals and supporting the human animal bond (HAB), CVO hopes to increase engagement and uptake of human social services by the marginalized individuals and families it serves.
CVO Halifax is led by a local inter-professional team of veterinarians and Dr. Cassandra Hanrahan from the Dalhousie School of Social Work in conjunction with five community partners including Veith house, Stepping Stone, Phoenix Youth Programs, and the Dalhousie School of Social Work Community Clinic.  It is the first of its kind in Atlantic Canada.  
Started in Ottawa in 2003, by founder and Director, Dr. Michelle Lem, DVM, MSW Candidate, Community Veterinary Outreach is entirely driven by volunteers and community partners and now has clinics across Canada in Ottawa, Toronto, Guelph, Hamilton, Kitchener-Waterloo, and York Region in ON, Winnipeg, MB Vancouver, BC (in partnership with Paws For Hope Animal Foundation), with hopes of establishing a sustainable program Halifax, NS.  Plans are underway to hold more clinics in Halifax in the near and distant future with development funding for the next three years.   
Get involved
Interested health and social service professionals and students can contact Cassandra Hanrahan – cassandra.hanrahan@dal.ca – to learn more about the initiative and volunteering.