News
»
Go to news main
Dr. Ingrid Sketris receives Dalhousie University Research Professorship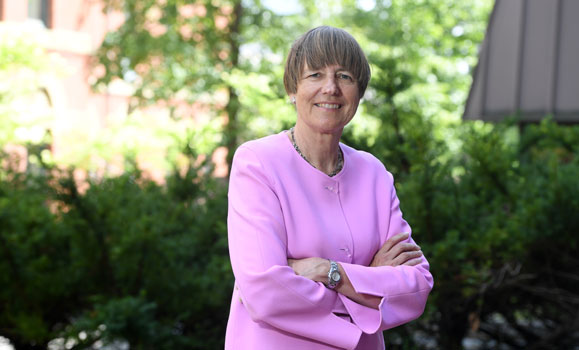 Each year, up to three Dalhousie academics are named University Research Professors, recognizing the significant contribution to research and scholarship they have made throughout their career. With 15 professorships in total, the designation is a prestigious acknowledgement of a faculty member's research productivity and impact.
In 2017, Dal Health' and the College of Pharmacy's Dr. Ingrid Sketris was named a University Research Professor. The honourary title, which has a five year term, recognizes Dr. Sketris' ability to conduct relevant and rigorous research to inform clinical practice and pharmaceutical policy.
Turning evidence into practice
Throughout her career, Dr. Sketris has worked to provide evidence to improve drug safety, effectiveness and affordability with the goal of improving patient health outcomes. Working with interdisciplinary research teams from across the region and around the country, she studies changes in drug policy and the health care system. With a particular focus on Nova Scotia and Atlantic Canada, Dr. Sketris identifies gaps in best practice, undertakes research to identify how to fill those gaps, provides policy makers with evidence-based options for change, and then studies the changes implemented to see if they had the desired effect.
When asked about the success of her research, Dr. Sketris points to the project to promote the use of "puffers" instead of "masks" for asthma and other conditions. This project, which started in 1999 and saw its most recent publication in 2017, is led by a team of researchers at Dalhousie and the local hospitals.
Noting that Nova Scotia mask-use was higher than other jurisdictions – despite the lower cost and comparable effectiveness of puffers – Dr. Sketris and her team worked with decision makers in government and the health authorities to synthesize published literature and baseline data on mask and puffer use. The results contributed to changes implemented by the province, QEII hospital and IWK Health Centre. Sketris' team then evaluated the impact. From 1999 to present, the team has worked with the provincial pharmacare program, hospitals, emergency departments and nursing homes to provide evidence for program and policy changes in favour of puffer use, and to gather and evaluate data on this change.
Leading knowledge translation in Atlantic Canada
While Sketris continues to work on a number of projects, her research focus over the next few years will be on heading the knowledge translation team for the Canadian Network for Observational Drug Effect Studies (CNODES). CNODES is a Canadian research network, led by Dr. Samy Suissa (Lady Davis Institute for Medical Research, McGill University), that uses multiple health care databases and population-based approaches to answer questions related to drug safety and effectiveness posed by Health Canada and other government departments and agencies. Their work has resulted in the publication of more than 40 recent studies.
Under Dr. Sketris' leadership, the knowledge translation team analyzes the uptake of their results by other researchers and the media. The team's goal is to boost the use of their findings in policy and practice both nationally and internationally.
CNODES has also recently established an Atlantic node, led by Dal's Dr. Adrian Levy. When asked the significance of the new Atlantic node, Dr. Sketris points to the need to acknowledge regional differences.
"It's important to look at how drugs are used in the health system, not just at the drugs themselves," she explains. "Factors such as environmental context of health care organizations and health policies; prescriber clinical practices and patients' genetics, disease variability, concurrent diseases and adherence to drug therapy all differ regionally – even if only slightly."
As an example, Sketris notes an ongoing CNODES project evaluating antimicrobial use across Canada. Every region in Canada has slightly different anti-microbial resistance patterns as well as differences in hospital and provincial government drug insurance (pharmacare) policies related to antibiotics. She notes that these differences need to be accounted for in studies to ensure their accuracy and their relevancy to local decision makers.
"An Atlantic node acknowledges those differences and allows us to focus on issues that are directly relevant to Atlantic Canadians," she says. "It also allows us to build capability in our researchers, trainees and data analysts in new techniques for the analysis of large administrative health databases."
Training the next generation of researchers
Her work, which has contributed to policy and practice change across a broad spectrum of drug policy and health practice issues, has also drawn a large number of graduate and post-graduate trainees and mentees who have gone on to successful careers as Deans and leaders of national health organizations.
Over the three decades she has been with Dal – ten of those as a Chair in Drug Use Management and Policy heading up the Initiative on Medication Management, Policy Analysis, Research & Training (IMPART) – Dr. Sketris built a research platform to work with graduate students and early career researchers. The program, valued at $1.8 million and funded by CFHI (formerly CHSRF), CIHR and NSHRF, allowed graduate students to complete residencies in government or health care organizations to learn about how the research evidence they generated could be applied to the real world.
"As a research chair, one of my biggest accomplishments has been bringing in and working with new researchers," she says. "While the impact of an individual project can be significant, when you train a new researcher you might inspire them and equip them for a thirty year career."
Congratulations to Dr. Sketris on this acknowledgement of her ongoing contributions to pharmaceutical and health system research.