News
»
Go to news main
Researchers catalyze innovation in the IWK emergency department to help children breathe easier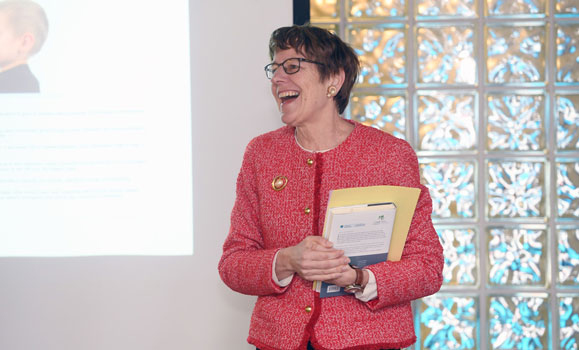 Innovation takes time, patience and collaboration. Just ask Dr. Ingrid Sketris from Dalhousie's College of Pharmacy who participated in a series of studies over ten years involving a team of researchers and student trainees from diverse academic backgrounds. Their aim? Changing the way children with a wheezy illness are treated in the emergency department at the IWK Health Centre.
Over 2000 children per year are seen at the IWK emergency department with a wheezy illness. Many are treated with the drug salbutamol, which relieves wheezing due to asthma, bronchitis and other lung conditions.  Traditionally, salbutamol is delivered via face mask and nebulizer – but Dr. Sketris and the research team examined the literature and best practices and determined the use of metered dose inhalers with spacers was more effective and had fewer complications for certain types of patients. They then determined the barriers to uptake of this new practice. The IWK Emergency Department used the evidence they generated to inform the development of their approach to implementation and began using the inhalers in 2008, resulting in decreased hospital admissions and saving the hospital $260,000 per year.
On Feburary 15, members of the research team were invited to present their results at Innovation Rounds – a monthly event co-sponsored by the IWK, Nova Scotia Health Authority and Dalhousie that brings the health community together to learn, support, encourage, and discuss research and innovation in health care.
Chaired by Dr. Patrick McGrath, Vice-President of Research, Innovation and Knowledge Translation at the IWK and Nova Scotia Health Authority, the event gave Dr. Sketris, Paul Spin – a PhD student in the Department of Economics at Dalhousie, and Rebecca deChamplain – a staff nurse at the IWK – the opportunity to share their perspectives on the research, its implementation, and its outcomes with an audience of students, researchers and health professionals.
In her presentation, Dr. Sketris talked not only about the research findings, but also the steps involved in making a successful change in the health system, the importance of community engaged research, and the role of academic researchers and trainees in catalyzing innovation.  Spin's presentation focused on the economic model used in the project, and how it can assist administrators as they make policy and resource allocation decisions.  deChamplain demonstrated both salbutamol delivery systems, talked about the benefits of the metered dose inhaler with a spacer, showed how nursery rhymes can calm nervous children and their parents, and discussed when to see a doctor or go to the emergency department.
Through sharing the successful outcome of the study at Innovation Rounds, Dr. Sketris and the team hope to strengthen ties between the hospital system, health professionals, commercial partners and researchers at Dalhousie - paving the way for future innovation.
Learn more: