News
»
Go to news main
School of Health Sciences lecturer leads Canada's Association of Medical Radiation Technologists
Posted by
Laura Hynes Jenkins
on February 27, 2017 in
News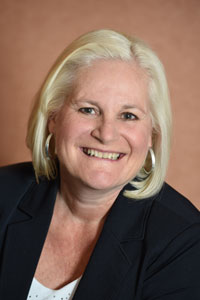 In July 2016, Karren Fader – a lecturer in the Dalhousie-QEII School of Health Sciences (SHS) – began her term as President of the Canadian Association of Medical Radiation Technologists (CAMRT).
For 75 years CAMRT has lead the creation of national competency profiles and certification, providing curriculum direction for post-secondary MRT education programs and accreditation. It has had a strong national voice advocating for the profession on health policy and system issues.
Karren Fader. (Provided photo)
The first faculty member from the School to lead a national professional association, Fader joins an elite group of educators and practitioners from the Faculty of Health Professions who have taken on the top Canadian leadership role in their fields.
A career MRT, Fader's ascension to President was a long time in the making. She's been volunteering with the provincial and national associations for over twenty years.
"Over the years I   was involved in many roles," says Fader, reflecting on her early involvement with the professional associations. "I attended provincial conferences. This lead to committee work, which in turn led to chairing committees and eventually the chairing of boards. "It was all stepping stones. Each new role built upon the previous."
Fader's varied experience with the Nova Scotia Association of Medical Radiation Technologists (NSAMRT) and CAMRT reflects the diversity of her work experience. She's worked in a large teaching centre (the Victoria General Hospital in Halifax) and a rural hospital (South Shore Regional Hospital in Bridgewater) and, since 2003, as a faculty member at the School of Health Sciences. She's earned one degree (and hopes to complete her Masters this year) and raised two children, while maintaining a constant leadership role in the profession.
"I took every opportunity for educational and professional development. I believe in learning for its own sake, for the personal growth I've always felt that if you take opportunities to advance yourself then doors open."
The most recent door opened last spring, when Fader was elected President for a two year term. With a quarter of her term complete, Fader has seen some early successes and has ambitious plans for the next year and a half.
In her first few months, Fader has been a strong advocate for the profession nationally and internationally. She's presented in Seoul, South Korea on advanced practice and appropriateness for MRTs. She ensured MRT representation at the Canadian Organization of Medical Physicists Imaging Winter School and helped develop the plan for a full day meeting with MPs on parliament hill to raise education and awareness of the role of MRTs in the health team and health system.
"We are an important part of the patient experience," says Fader. "We are the essential caring link for the patient in the practice of diagnostic imaging and radiation therapy using advanced technology.   –. It's important that our role be understood."
In addition to continued advocacy for the profession, Fader wants to see CAMRT increase its research focus.
"Research is being done by MRTs across Canada, but we need to be facilitating linkages, broadcasting successes and directly supporting research initiatives," she explains.

Acknowledging that the profession is still in the early stages of building research capacity, Fader is committed during her tenure to lay the foundation for a  robust research network.
"My goal is for CAMRT to be seen as an organization leading evidence-based research in our practices by our professionals"