Career Development and Leadership Graduate Student Masterclass with Deep Saini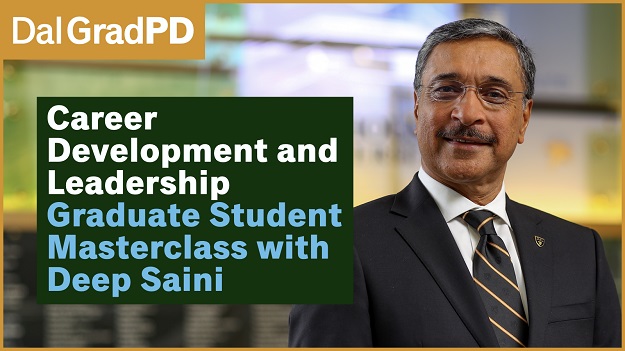 While chance may well play some part and the finer details certainly vary from case to case, development of a successful career invariably requires disciplined adherence to certain time-tested basic principles and practices. In this lecture, Dalhousie President & Vice-Chancellor Dr. Deep Saini will share the rich and diverse lessons learned from the numerous experiences and successful people he has encountered during his personal journey — from sitting cross-legged on the dusty floors of an elementary school in India, through a rewarding academic and research career at six of the world's top institutions, to the presidencies of two leading universities in Canada and Australia. With real-life examples and practical how-to tips, he will attempt to demonstrate how our professional and personal choices can dramatically influence the course of our career trajectory, including our leadership potential and prospects. This interactive class will allow for ample discussion, sharing of additional ideas and opportunity for follow-up.
Registration details
Registration has been capped at 30 participants to allow for an interactive discussion, but all interested graduate students are invited to sign up for a place on the waitlist. You will be emailed if there is an opening closer to the event date.
Register now for the waitlist (registration closes Tuesday, May 4)
Time
Starts:
Ends:
Career Development and Leadership Graduate Student Masterclass with Deep Saini