Webinar: Market Your Academic Skillset Outside Academia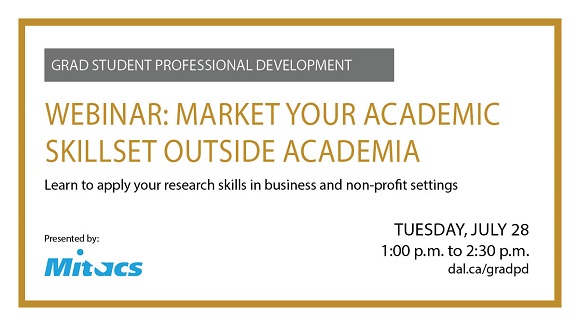 Join us in this webinar to learn how to apply your research skills outside the academic setting, such as companies and non-for-profit organizations, and how to gain financial support for your research. All Dalhousie graduate students and postdoctoral fellows are invited to attend - register now.
Attendees will receive updates via email on how to access the webinar.
The workshop will be hosted by Mitacs, a national research-funding agency dedicated to promoting collaboration between the academic community and the industry/non-for-profit sector. Mitacs offers a variety of programs that allow students and/post-docs to access funding and to expand their professional opportunities. Visit the Mitacs website for an overview of all the funding programs that are currently offered.
Facilitators:
Kathleen Mifflin: Kathleen works at Dalhousie University as a Business Development Specialist for Mitacs. Having graduated with a Master of Environmental Studies from Dalhousie University, she has close ties to the school and its stellar research community.
Marie Hogan: Marie works as a Business Development Specialist for various post-secondary institutions in Nova Scotia, drawing on her Master's in Post-Secondary Education and her background in Alumni Affairs and Development to drive innovation and R&D in our province.
Time
Starts:
Ends:
Webinar: Market Your Academic Skillset Outside Academia