About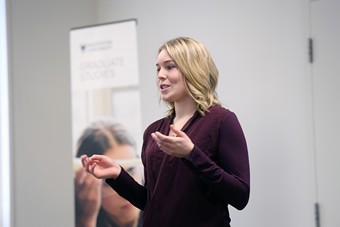 3 Minute Thesis (3MT) celebrates the exciting research conducted by graduate students around the world. Developed by the University of Queensland, the competition aims to cultivates your academic, presentation and research communication skills. Presenting in a 3MT competition can increase your capacity to effectively explain your research in three minutes, in a language appropriate to a non-specialist audience. To support you, you're allowed one PowerPoint slide, but no other resources or props.
The first 3MT competition was held at the University of Queensland in 2008 with 160 graduate students competing. The initiative is now global, with 3MT competitions now held in over 600 universities and institutions across 63 countries worldwide.
Dalhousie has hosted the event for six years. In past years, the competition has brought together as many as 100 Master's and PhD students from across the university in pursuit of cash prizes, bragging rights and the chance to share their passion. In 2018, in celebration of Dal's bicentennial, the Faculty of Graduate Studies is hoping to double the number of competitors to 200.
The "supersized" 200th anniversary edition of the competition will involve three days of preliminary heats on March 5-7. Winners from these heats will go on to compete in the finals on the evening of March 8th. The preliminary heats will be judged by a panel of faculty, staff and postdocs from across the university. The finals will be judged by some exciting celebrity guests. Stay tuned!
Students will be contacted by FGS after registration closes with specific event details and the time of their assigned heat.

Visit the University of Queensland 3MT page to see how it all began!
Read stories from previous Dal 3MTs:
Testimonials